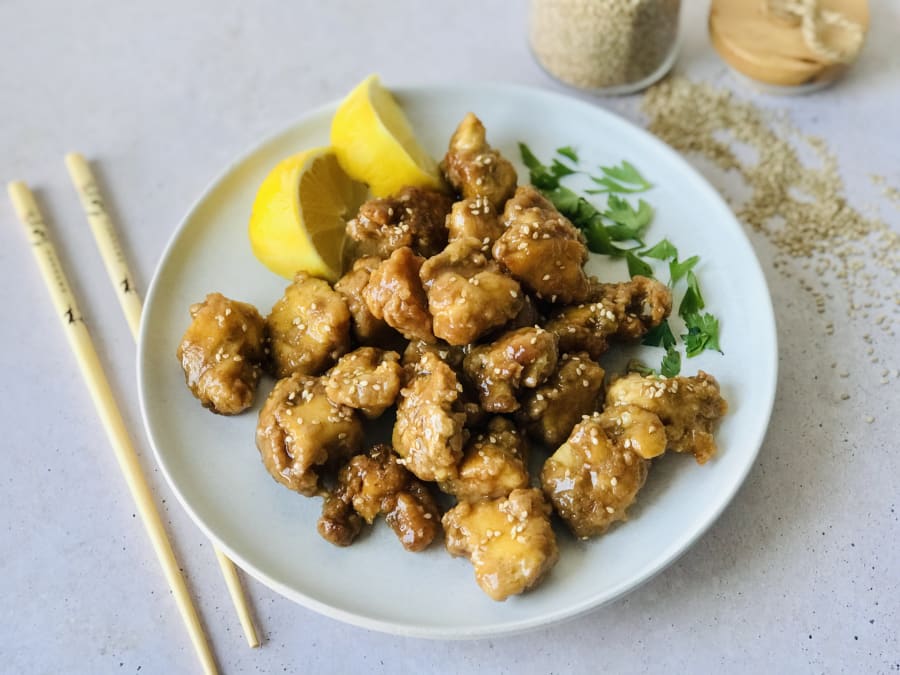 Chinese-Style Lemon Chicken
"If you're the type that orders lemon chicken when you go to Chinese restaurants, we've brought you this exact restaurant-style dish so you can start making it at home!"
ingredients
13
Difficulty
Easy
Time
40'
Fresh ingredients

chicken breast

lemon

ginger

garlic

egg white
Pantry ingredients

apple cider vinegar

soy sauce

wheat flour

corn starch

water

olive oil

sugar

vegetable broth
Instructions
1
Dice the chicken breast and place in a deep bowl. Add a tablespoon of soy sauce, the vinegar, and a beaten egg white. Mix very well and let it marinate for 20 minutes.
2
While the chicken is marinating, start making the sauce. Mix the vegetable stock, the rest of the soy sauce, the sugar, and set aside.
3
Zest a lemon and mix with 3 tablespoons of lemon juice and set aside as well.
4
After 20 minutes of marinating, add the chicken and the marinade into a bowl with flour. Use your hands to mix the chicken with the flour, pressing down, and if you get lumps of dough, it's normal.
5
Fry the now breaded chicken in a pan with oil and set these pieces of chicken aside.
6
In another pan add some finely diced garlic and lightly fry it. Once it's browned add the grated ginger, and soy sauce with sugar you had reserved. Cook on medium heat, stirring with a wooden spoon. Once it begins to bubble, add the lemon juice with the zest and the cornstarch mixture (previously mixed in with two teaspoons of water). Cook on medium-low heat until it is as thick as a sauce.
7
Once the sauce has thickened add the chicken to the pan and mix until well covered with sauce.
8
Serve accompanied by a bit of sesame seeds on top and/or green onion.
Tips & Tricks
You can use chicken broth or vegetable broth instead of water when you dissolve the soy sauce and sugar.