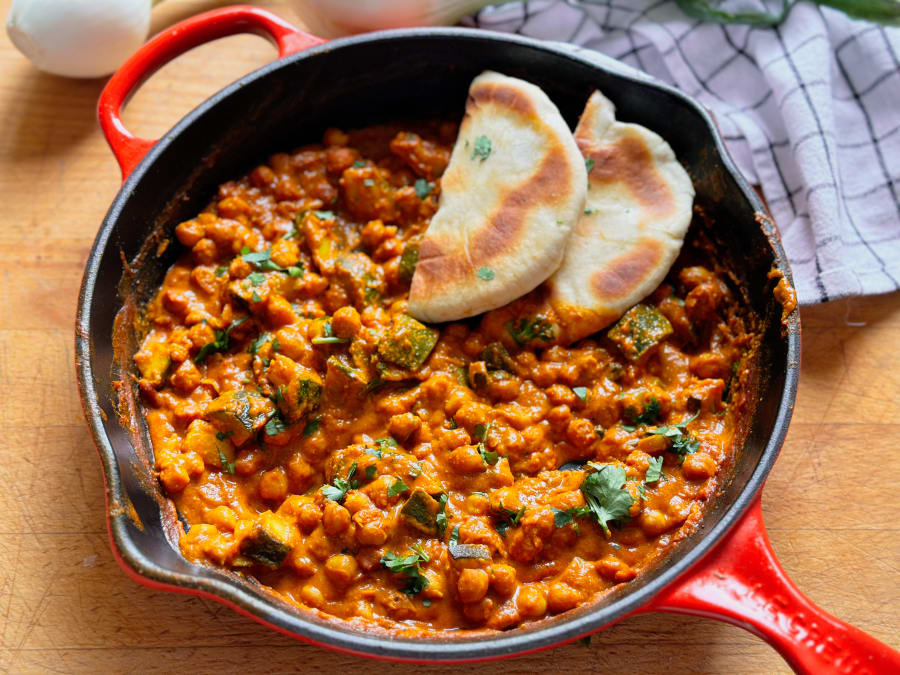 Garbanzo Masala
"If you love Indian food, you've just found the perfect garbanzo recipe to make. It's easy to prepare at home and is a meal everyone will love."
ingredients
17
Difficulty
Easy
Time
40'
Fresh ingredients

yogurt

lemon juice

ginger

scallion

zucchini

cilantro

garlic
Pantry ingredients

canned chickpea

garam masala

turmeric

sweet paprika

salt

olive oil

tomato puree

coconut milk

water

pita bread
Instructions
1
Grate a piece of ginger and a garlic clove.
2
Add the cooked garbanzo beans into a bowl along with the grated garlic and ginger, the yogurt, tablespoon of garam masala, 1/2 teaspoon of paprika, and another 1/2 teaspoon of ground turmeric, and a pinch of salt and a drizzle of lemon. Mix and place the bowl in the fridge for approximately 20 minutes.
3
Chop the scallions, a garlic clove, and a piece of ginger.
4
Pour some olive oil into a pan and once it's hot, add the vegetables you've just chopped. Cook on medium heat for 5 minutes, taking care not to burn them.
5
Add a tablespoon of garam masala, a teaspoon of paprika, and another of turmeric, and mix. Cook on medium heat, constantly stirring for one minute.
6
After this time, add the tomato and mix. Add the coconut milk and the water, and if you would like, a bit of chopped cayenne. Cook on medium heat for 10 minutes.
7
Add the sauce to a blender and blend. Once it is bump-free, add the sauce to the pan and add the garbanzos you had set aside in the fridge. Also add the finely diced zucchini. Cook for 15 minutes on medium heat, stirring occasionally.
8
Once the sauce is thickened to your liking and the zucchini is tender, remove the pan from the stove.
9
Serve the garbanzos with a bit of chopped cilantro or parsley on top and cut up pita bread on the side.