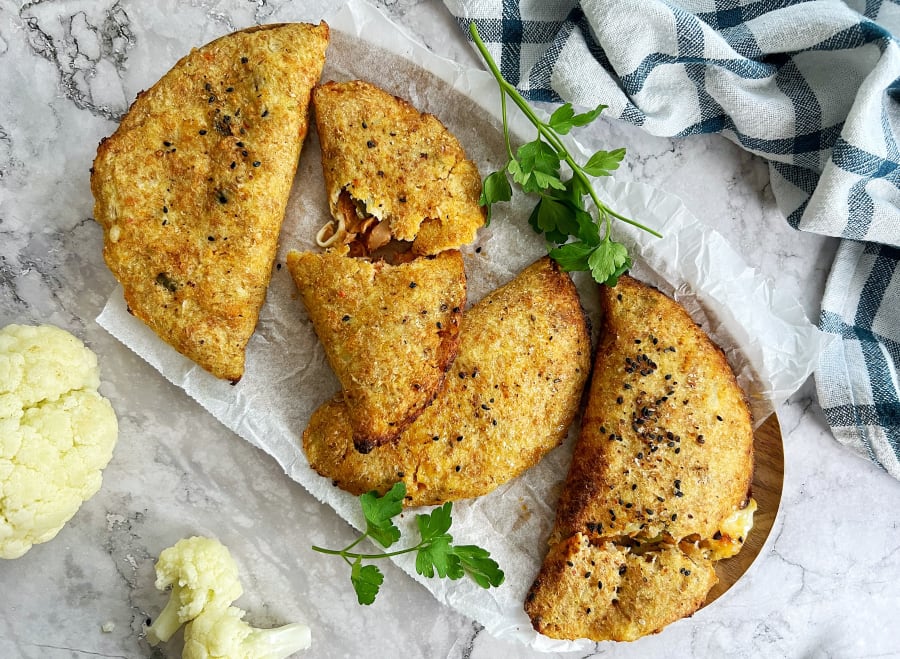 Air Fryer Cauliflower Turnovers
"These turnovers are ideal for dinner, to take to work, or as an appetizer with friends. They're scrumptious and the best part is that they can be ready within minutes in the air fryer."
ingredients
11
Difficulty
Medium
Time
45'
Fresh ingredients

egg yolk

sliced cheese

green bell pepper

onion

garlic

cauliflower
Pantry ingredients

tomato puree

salt

canned tuna

olive oil

wheat flour
Instructions
1
Cook the cauliflower in the microwave in a covered container for 5 minutes. Mash and then use a clean towel to remove the excess water. Let it cool.
2
Add the cauliflower to a bowl with the yolk of an egg, salt to taste, and the flour. Mix and let it stand for several minutes. Meanwhile, you can start making the filling.
3
Dice the garlic, onion, and bell pepper into small cubes. Lightly fry in oil until the vegetables are golden. Add the drained tuna and the tomato puree. Let it cook for several minutes.
4
Cut the cheese into 4 pieces.
5
To make the turnovers, place some of the dough onto a piece of Saran wrap, and use a spoon to flatten it and then fill with the cheese and tuna. Use the Saran wrap to fold the dough over, making sure to press one edge to the other in order to form the turnover. Press down on the edges well to close it.
6
Place into the air fryer and cook at 400°F for about 15-20 minutes (turning them over at the last 5 minutes so they cook a bit on the bottom.