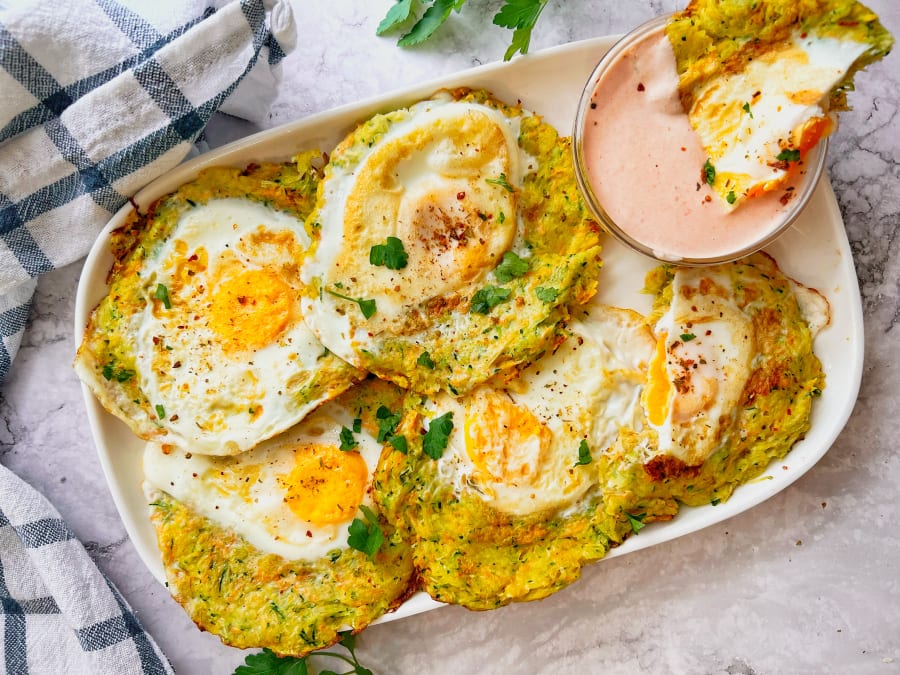 Vegetable and Egg Hot Cakes
"Discover these vegetable and egg hot cakes that are perfect for young children. Accompany them with a delicious sauce and enjoy!"
ingredients
9
Difficulty
Easy
Time
25'
Fresh ingredients

egg

potato

zucchini

carrot

mayonnaise

tomato puree
Pantry ingredients

wheat flour

salt

olive oil
Instructions
1
Grate the potato, zucchini, and carrot with a fine grater.
2
Place the vegetables on a clean towel and press down to remove as much excess water as possible.
3
Add the vegetables to a bowl. Add salt and pepper to taste. Then add the beaten egg and flour. Mix everything until it is homogenous.
4
Pour some batter into a hot greased pan and then make a hole in the center of each hot cake.
5
Add an egg to the hole and cook on medium heat, covered.
6
Flip the hot cake after approximately 6 minutes so that it finishes cooking. Serve immediately.
7
For the sauce, mix mayonnaise with the tomato puree and salt to taste.
Tips & Tricks
Use gluten-free flour if desired.
You can use whichever vegetables you have on hand: broccoli, squash, sweet potato, etc. You can also add red cabbage to add more color and nutrients to the hot cakes.