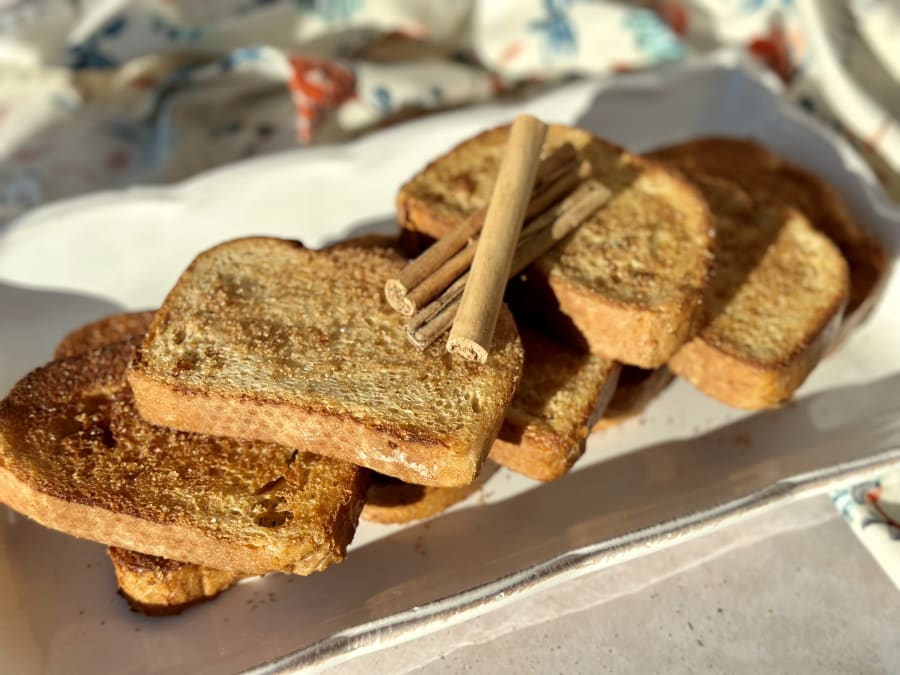 Air Fryer French Toast
"If you love french toast, we've brought you a healthier version of this traditional dish. Forget frying them in oil. Cook them in your air fryer! They're so tasty."
ingredients
6
Difficulty
Easy
Time
30'
Fresh ingredients

egg

milk

lemon
Pantry ingredients

cinnamon

brown sugar

bread
Instructions
1
Put the milk, two tablespoons of sugar, a stick of cinnamon, and a large piece of lemon rind into a pot. Cook on medium heat until it begins to boil. Once boiling, turn off and let it stand. Once it's almost cold, strain the milk, and pour it into a large bowl.
2
Beat a large egg in a deep plate.
3
Preheat the air fryer for 2 minutes at 350°F.
4
Submerge both sides of each slice of bread in the bowl with the milk. Do this for about 5 seconds on each side. Drain and then dip in the egg and then place on a tray.
5
Place parchment paper on the air fryer rack and place the french toast slices until there is no room. Depending on the capacity of your air fryer, you may have to do this several times. Program the fryer for 10 minutes. Halfway through, flip the french toast over so it cooks on the other side.
6
Add a tablespoon of sugar and ground cinnamon to a plate and mix. Once the french toast is done, dip each side into the cinnamon-sugar mixture before serving.