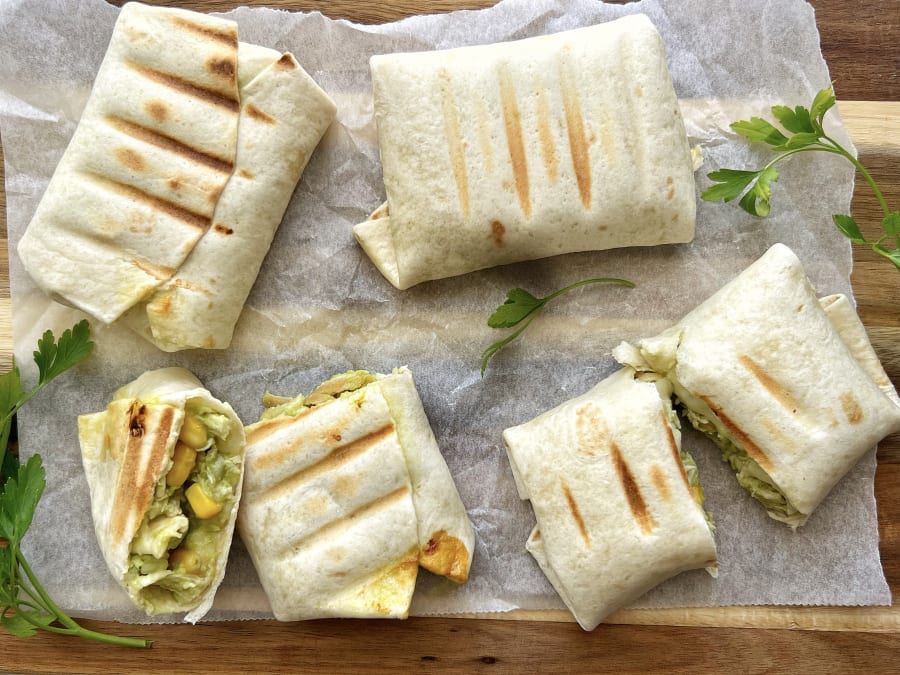 Avocado and Chicken Burritos
"Level-up your lunches or dinners by adding chicken! Enjoy one of the most delicious burritos with avocado that will be ready in about 20 minutes."
ingredients
10
Difficulty
Easy
Time
20'
Fresh ingredients

chicken breast

onion

avocado

lemon

sliced cheese
Pantry ingredients

flour tortilla

salt

black pepper

olive oil

corn
Instructions
1
Add a bit of salt and pepper to the chicken breast.
2
Pour some olive oil into a pan and once it's hot, cook the chicken. Once cooked, shred the chicken and add to a bowl.
3
Finely dice the onion and place in the bowl with the chicken. Add the drained corn and mashed avocado. Drizzle some lemon juice and add a bit more salt if necessary. Mix everything well.
4
Place a slice of cheese in the middle of the tortilla, and fill with the chicken filling you've just prepared. Roll it up into a burrito.
5
Toast each burrito slightly in a pan or flat grill to warm it up.
Tips & Tricks
You can make a few cuts to the chicken breast before cooking so that the heat penetrates all the way into the center so it isn't left raw.
It's a good idea to take advantage of leftovers, so if you already have cooked chicken from another dish, you can use that instead.