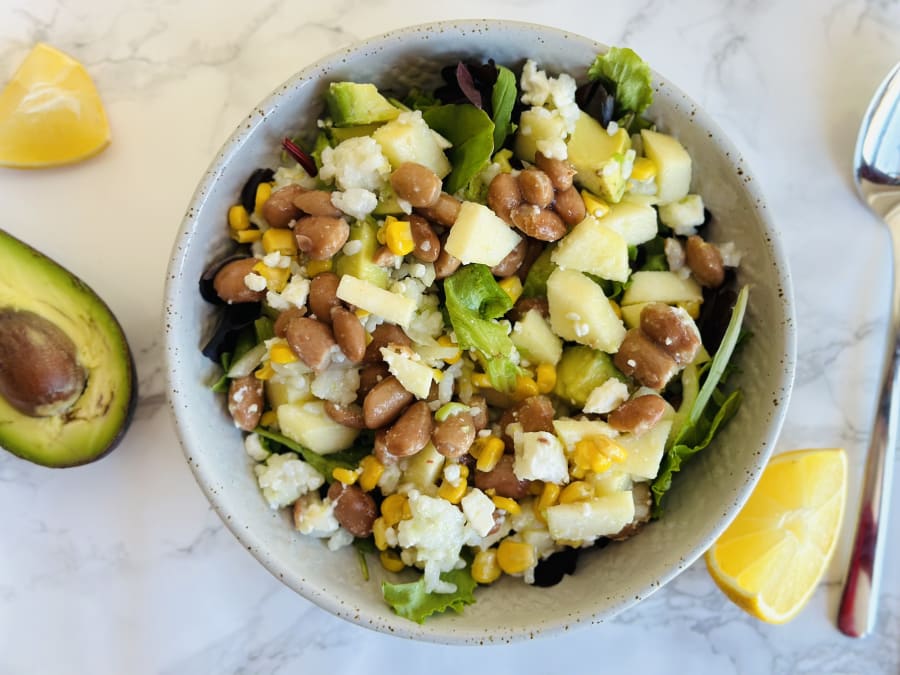 Bean Salad with Apple
"You read the title right, beans with apple. Do you think it's an original combination dish? Dare yourself to try it and discover the marvels of the results. A mixture of exquisite flavors on the palate will leave you wanting more!"
ingredients
11
Difficulty
Easy
Time
15'
Fresh ingredients

apple

avocado

feta cheese

onion

lettuce

lemon
Pantry ingredients

corn

pinto bean

rice

olive oil

salt
Instructions
1
Start by preparing the vegetables the following way. Peel an apple and dice finely. Dice the avocado. Shred the feta cheese. Add these ingredients to a bowl.
2
Add the drained corn to the bowl along with the thinly sliced onion, the pre-cooked pinto beans and rice.
3
Dress with some olive oil, a drizzle of lemon juice, and salt. Mix.
4
Add the lettuce as a base for your salad and use a spoon to incorporate the beans and veggies you have just prepared.