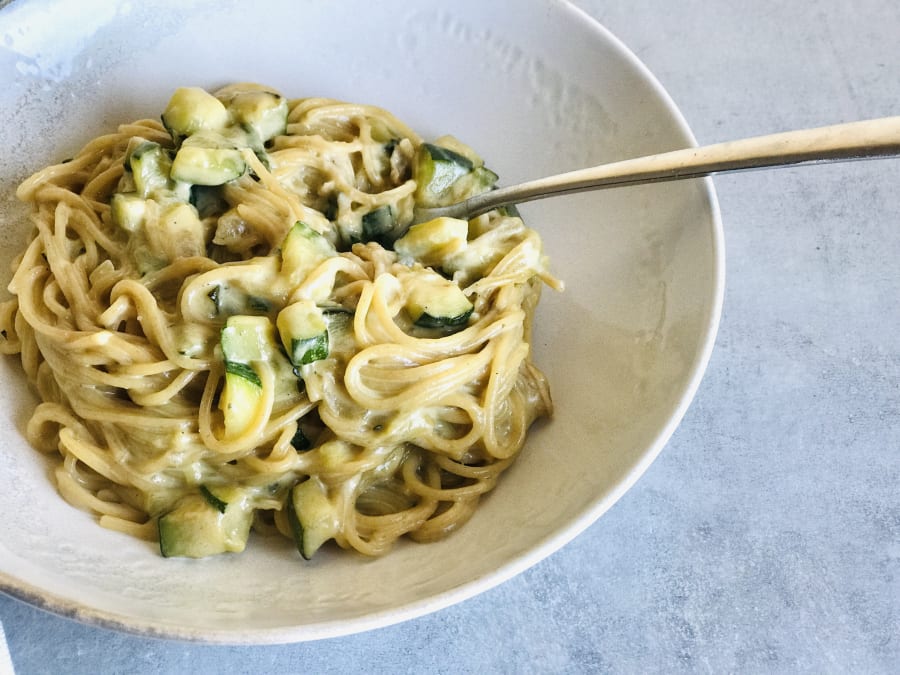 Blue Cheese Sauce Pasta with Zucchini
"This pasta dish with zucchini and blue cheese sauce is amazing! It's the perfect meal for any day of the week if you're looking for a recipe with little and simple ingredients. You can be sitting down and eating this dish in as little as 20 minutes. Let's get started!"
ingredients
5
Difficulty
Easy
Time
20'
Fresh ingredients

zucchini

onion

blue cheese
Pantry ingredients

spaghetti

evaporated milk
Instructions
1
Boil water in a pot. Once boiling add some salt and add the pasta. Cook for the time indicated in the instructions.
2
Slice the onion and finely dice the zucchini.
3
Drizzle some olive oil into a pan and lightly fry the veggies you've just cut. Cook on medium heat for about 10 minutes.
4
While the veggies are cooking add the blue cheese and evaporated milk into a small pot. Heat it up. Once the blue cheese starts to melt and integrates with the milk, add the sauce into the pan with the vegetables and mix. Cook on low heat until the sauce thickens.
5
Add the spaghetti to the pan and mix with the vegetables and sauce. Serve on two plates.
Tips & Tricks
You can substitute the evaporated milk for heavy cream or regular cream.