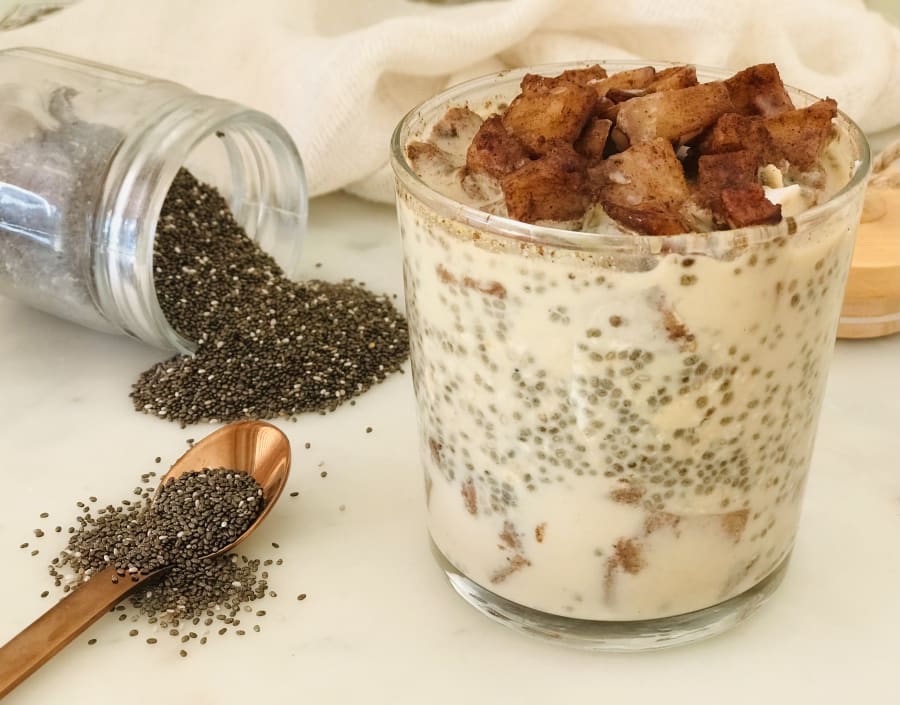 Chia and Oat Pudding Breakfast with Caramelized Apple
"This chia and oat pudding with caramelized apples tastes just like an apple tart! It's a delicious and lavish way to start the day off."
ingredients
7
Difficulty
Easy
Time
20'
Fresh ingredients

apple

plant-based milk

margarine
Pantry ingredients

agave syrup

chia seed

oats

cinnamon
Instructions
1
Wash and dice the apple into small pieces.
2
Add a pinch of margarine butter (or butter) and cook the apple bits. Add a teaspoon of cinnamon and a bit of agave syrup (or another sweetener). Leave them on medium-low heat for approximately 10 minutes, until the apples are well browned and tender.
3
Mix the chia seeds, rolled oats, plant-based milk, and the rest of the sweetener in a bowl.
4
Place the apples at the bottom of the cup or bowl you will serve in, and then add the chia and oat mixture on top. If you would like you can set aside some apples and finish by adding it to the top like in the photo.
5
Place in the fridge and let it stand for several hours. It's preferable to do this late at night so that you can have it for breakfast in the morning. You'll see how delicious it is!
Tips & Tricks
It's not necessary to peel the apple if you don't feel like it.
You can substitute the agave syrup for another sweetener that you wish to use.
You can add some drops of vanilla extract to the oat and chia mix.