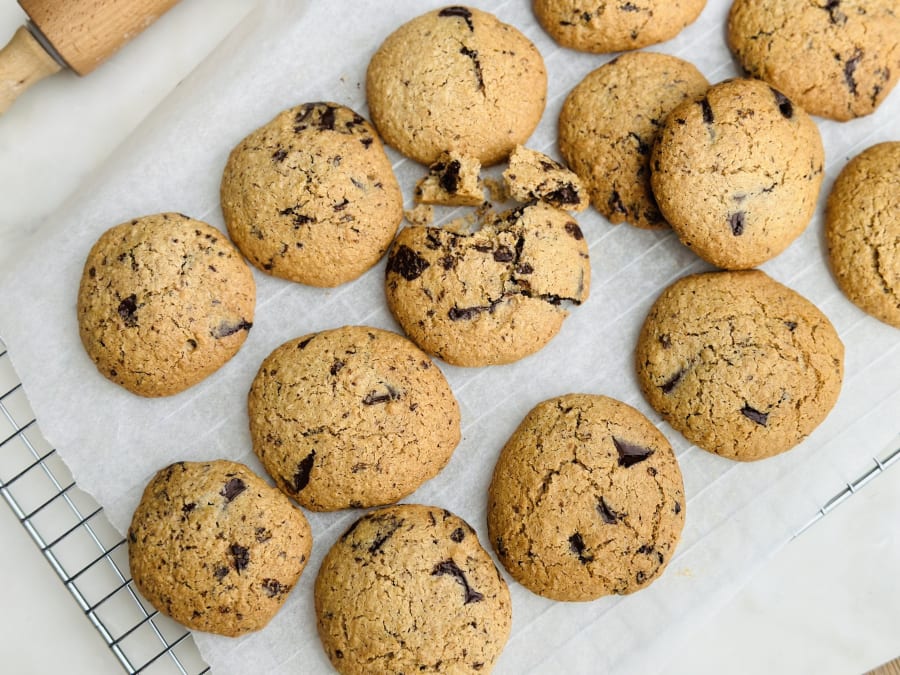 Chocolate and Oat Cookies
"What a great joy it is to make cookies at home! And it's because we all love cookies, so why not turn on the oven, take out the chocolate, flour, and the rest of the ingredients and start making some? They're perfect to snack on, to have for breakfast, or even as a dessert."
ingredients
7
Difficulty
Easy
Time
40'
Fresh ingredients

egg

butter
Pantry ingredients

brown sugar

oats

oat flour

yeast

dark chocolate
Instructions
1
Preheat the oven to 335°F, with the heat above, below, and with the fan on.
2
Add the egg, melted butter, and the sugar into a bowl or blender and beat for several minutes until you have a completely homogeneous mixture.
3
Mix the dry ingredients in a separate bowl: the rolled oats, oat flour, and yeast.
4
Add the dry ingredients into the bowl with the liquid ingredients. Gently mix until fully integrated.
5
Place the batter into the fridge for about 10 minutes.
6
Meanwhile, chop the dark chocolate.
7
Remove the dough from the fridge and then add the chocolate chunks and mix.
8
Grab a bit of the batter and give it a cookie shape. Place on some parchment paper that is lining a cookie sheet. Place the cookies a few inches apart because they will get bigger.
9
Bake for 13 minutes. After this time, remove the cookies and place on a cooling rack until cooled.
Tips & Tricks
Make sure that the rolled oats and the oat flour are gluten-free.
We were able to make 15 cookies with the indicated quantity.