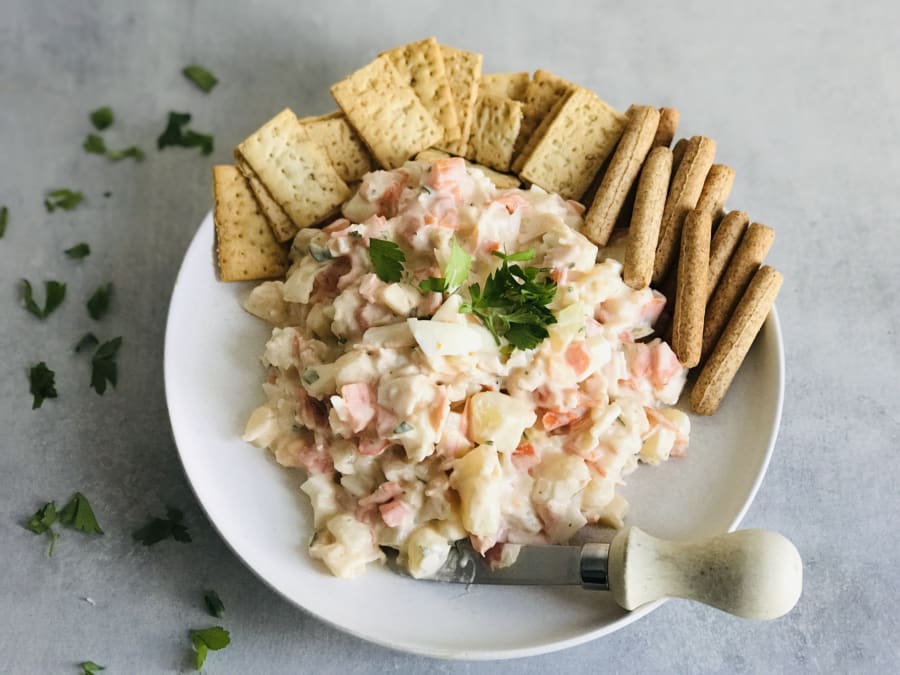 Crab Salad
"If you had planned to organize a dinner party at your house in the next few days, this salad is perfect for that occasion. You can serve it as an appetizer served along with little toast slices. Or you can serve it as an accompaniment. What we know for sure is that everyone is going to love it."
ingredients
7
Difficulty
Easy
Time
25'
Fresh ingredients

egg

surimi

potato

carrot

pineapple
Pantry ingredients

mayonnaise

ketchup
Instructions
1
Put water to boil in a pot. Once it begins to boil add some salt and add the egg. Cook for 10-12 minutes. After this time remove the egg, chill it in an ice bath, and then remove the shell. Dice the egg.
2
Peel the potato and carrot and dice into small cubes.
3
Put more water to boil in another pot and once it begins to boil, add the potato and carrots. Cook until they are tender. Turn off the heat, drain, and let it cool.
4
Use a knife or food processor to finely dice an onion and the crab sticks.
5
Prepare the pink sauce. It's very easy, you only have to mix mayonnaise with ketchup. Set aside.
6
Add the diced hard-boiled egg, the cooked carrot and potato, and the pink sauce to a bowl. Gently mix with a spatula and then serve the salad.