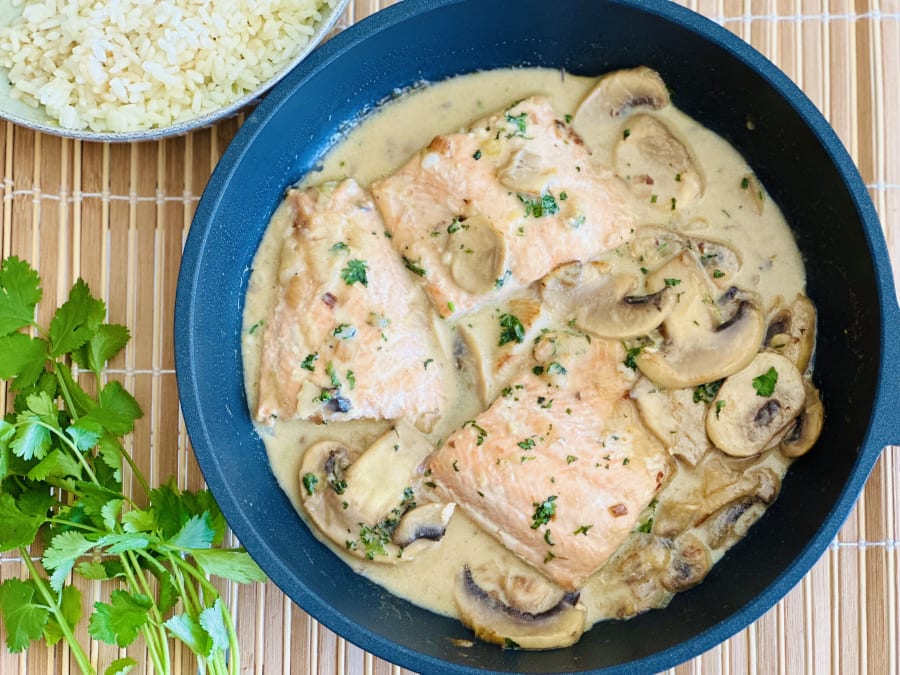 Creamy Salmon with Mushrooms
"Are you prepared to cook this salmon with an exquisite sauce? The sauce is made with sautéed mushrooms and onions, then seasoned with ginger and orange juice, and smothered in coconut milk. It really completes the dish and makes it unique!"
ingredients
9
Difficulty
Easy
Time
20'
Fresh ingredients

salmon

mushroom

ginger

orange

cilantro

onion
Pantry ingredients

coconut milk

salt

olive oil
Instructions
1
Add oil to a pan and cook the salmon filets for a few minutes. Remove and place on a paper towel. Set aside.
2
Dice the onion and wash and slice the mushrooms.
3
Use the same pan you used to cook the salmon and cook the onion until tender. Add the mushrooms, and if you think it's necessary, add a bit more oil. Cook for 5 minutes on medium-low heat.
4
Add the coconut milk to the pan, mix, and cook on low heat for 5 minutes. Add the fresh grated ginger (if you don't have it fresh, you can use the ground spice version) and the orange juice from 1/4 orange. Cook on low heat for 3-4 minutes.
5
Add the salmon filets to the pan and cook for 3 more minutes. Add the chopped cilantro.
6
Serve on two plates, you can accompany with some cooked basmati rice.