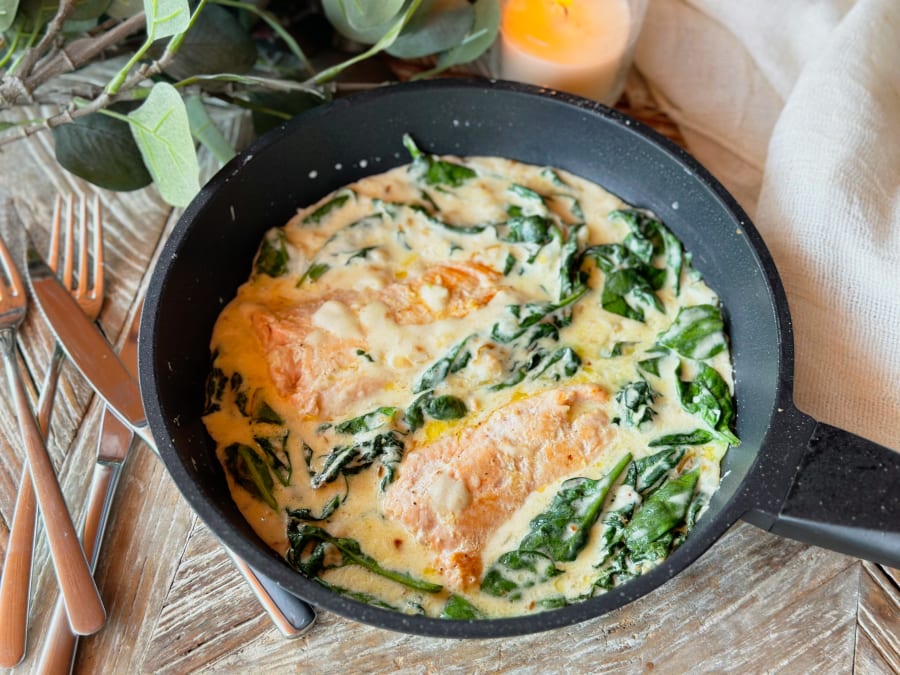 Creamy Spinach Sauce Salmon
"We've brought you this quick, easy, and delicious recipe today. This creamy spinach sauce salmon is a dish that can be prepared any day of the week and can be enjoyed in record time."
ingredients
9
Difficulty
Easy
Time
20'
Fresh ingredients

salmon

spinach

onion

garlic

mascarpone cheese
Pantry ingredients

light cream

salt

black pepper

olive oil
Instructions
1
Salt and pepper the fish filets and pour some oil into a pan. Once the oil is hot, cook the fish on each side without cooking all the way through.
2
Finely dice the onion and garlic. Add some more oil to the pan you used before and then cook the onion and garlic.
3
Once tender, add the cheese and cream. Cook on medium heat until the cheese has melted.
4
Add the spinach, a bit of salt, and cook for 3-4 minutes. Add some milk if you see that the sauce thickened too quickly.
5
Add the salmon to the sauce and finish cooking for a few minutes. Serve immediately.