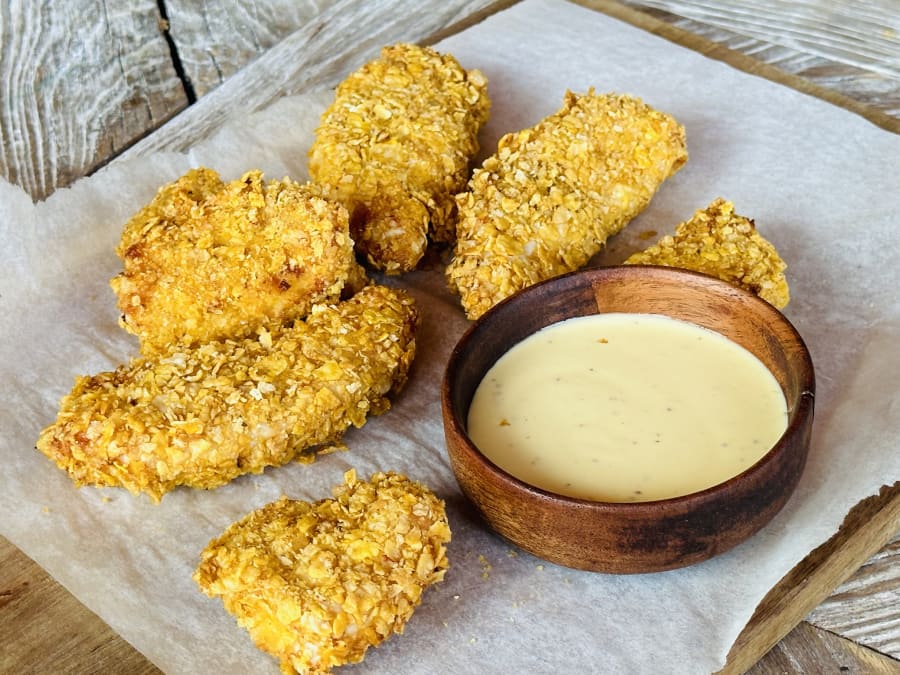 Crispy Air Fryer Chicken
"A basic dish that cannot be missed are these crispy air fryer chicken bites! You only need chicken, corn flakes, an egg, and some oil. Cook it in your air fryer and you'll be crunching all throughout your meal."
ingredients
8
Difficulty
Easy
Time
25'
Fresh ingredients

egg

chicken breast
Pantry ingredients

salt

cayenne pepper

garlic powder

onion powder

olive oil

cereal
Instructions
1
Add the corn flakes (unsweetened) to your food processor and blend.
2
Cut the chicken breast into slices or cubes (not too big) and season with some salt and cayenne pepper to give it a little kick. If you don't like spice you can omit it. Also season with garlic and onion powder. You can add any other spices/herbs that you like: herbs de provence, cajun seasoning, etc.
3
Beat an egg in a bowl and dip the seasoned strips of chicken into the egg. Next, dip it into the crushed corn flakes.
4
Place the chicken strips on a piece of parchment paper, and drizzle some olive oil on top. Cook in the air fryer for 18 minutes at 350°F. Halfway through the time, open the fryer drawer and flip the chicken and keep cooking.
5
Serve with your favorite dipping sauce.
Tips & Tricks
If you don't have an air fryer you can make them in the oven at 400°F for 18-20 minutes.