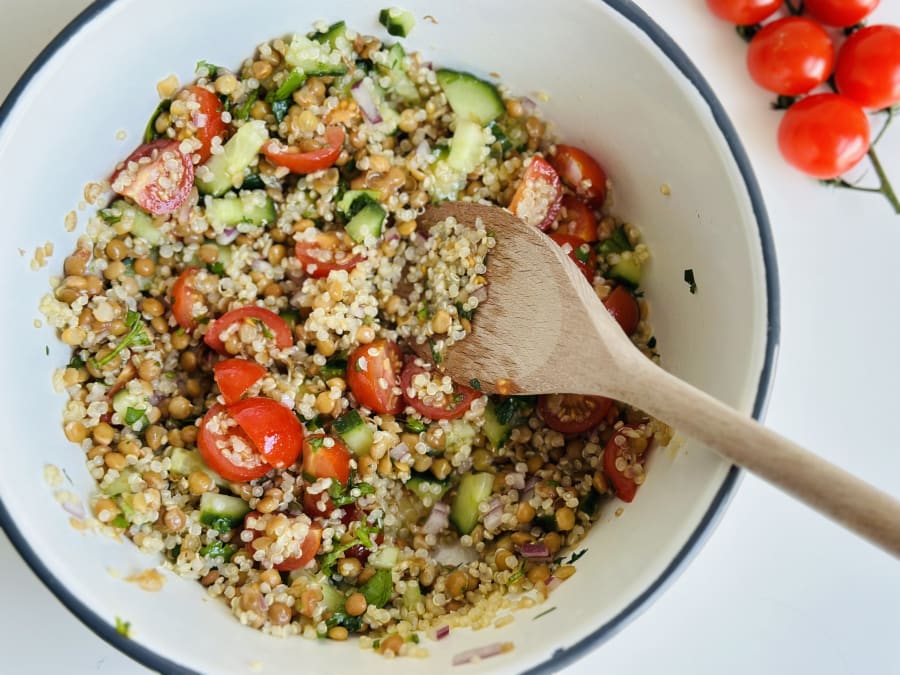 Easy Lentil and Quinoa Salad
"This complete and nutritious salad is perfect to put into tupperware and eat it during lunch anywhere you're at."
ingredients
9
Difficulty
Easy
Time
25'
Fresh ingredients

cherry tomato

cucumber

cilantro

lime

red onion
Pantry ingredients
quinoa

olive oil

canned lentil

salt
Instructions
1
If you don't have cooked quinoa, start by preparing some. The first step is to rinse the quinoa. We cooked it in the microwave. For this, we placed it in a special recipient that is microwave-safe. We added about 8 ounces of water and a pinch of salt. We placed a lid on top and cooked for 12 minutes at 800W. Once ready, we let it stand for several minutes before removing the lid. Let it cool.
2
Serve the quinoa in a bowl and add the cooked and previously drained lentils.
3
Wash and dice the cucumber and cherry tomatoes into small cubes. Add to the salad.
4
Finely chop the cilantro and onion and add to the bowl.
5
Drizzle some oil, lemon, and salt on the salad, mix, and presto!
Tips & Tricks
The quinoa can be made in a pot on the stove following the instructions on the packaging.