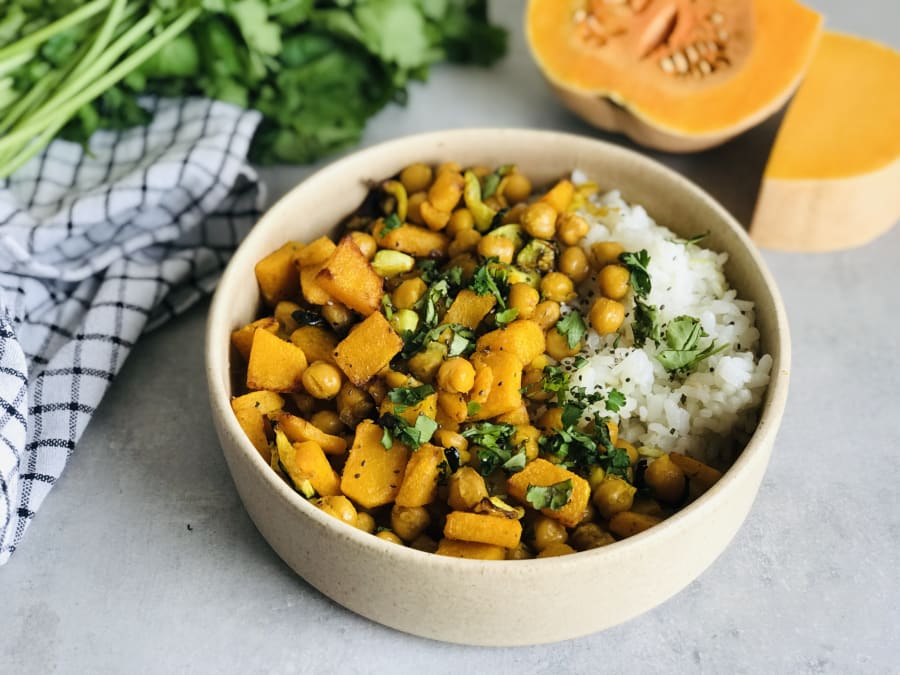 Garbanzo Bowl with Spiced Squash in the Air Fryer
"Would you like to prepare an amazing legume dish in your air fryer? We've brought you this simple garbanzo and roasted squash recipe that you can easily make in your air fryer. It's well seasoned and cooked, and accompanied by some rice. A luxurious dish!"
ingredients
8
Difficulty
Easy
Time
30'
Fresh ingredients

butternut squash
Pantry ingredients

canned chickpea

rice

cumin powder

sweet paprika

turmeric

salt

olive oil
Instructions
1
Cut the squash into medium-sized pieces. Place in an oven-safe dish that fits in your air fryer and add some oil, salt, and a pinch of ground cumin. Mix.
2
Place in the air fryer and program it to 20 minutes at 350°F. Open the air fryer every once in a while and stir the squash so that they cook on all sides.
3
While the squash cooks, drain the pre-cooked garbanzos from their container and mix with the same spices as before and add the paprika and turmeric.
4
Once there are 7 minutes remaining for the squash, open the basket and add the garbanzos in. Take care not to burn yourself as you mix it all together and then close it again. Keep cooking for the remaining 7 minutes. When there are 3 minutes remaining, mix one last time.
5
Serve the squash and garbanzos in a bowl with some cooked rice. Dress this bowl with the sauce we recommend in tips and tricks!
Tips & Tricks
You can accompany this dish with a yogurt sauce. For this, open an unsweetened plain yogurt, finely dice a garlic clove, add a bit of salt, a drizzle of lemon juice, and mix well. Your sauce is ready!
You can sprinkle a handful of chopped cilantro on top.
If you don't have rice, we'll explain how to make it. Add a tablespoon of olive oil in a pot, and once it is hot, add the sliced clove of garlic. When it begins to lightly brown, add the rice. Stir it for a couple of minutes before adding the hot water with a pinch of salt. Cook over high heat for 7 minutes and then turn down the heat to low and cook for 8 more minutes. If at this time, it absorbed all of the water and is still hard, add more water. Let it sit for a little bit.