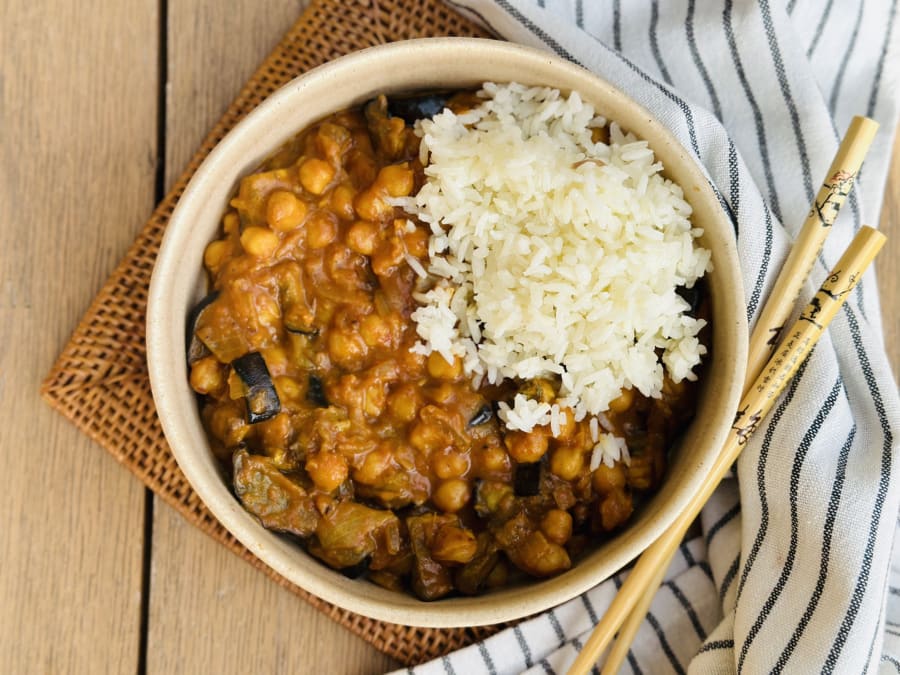 Garbanzo Curry with Aubergines
"This vegetable curry is irresistible! It's easy to make, with incredible flavor, cheap ingredients...it can't get any better!"
ingredients
11
Difficulty
Easy
Time
20'
Fresh ingredients

eggplant

onion

garlic
Pantry ingredients

curry powder

cumin powder

turmeric

salt

coconut milk

tomato puree

canned chickpea

rice
Instructions
1
Cut the eggplant into medium-sized pieces. Place the pieces into the air fryer and cook them with some oil and salt for 10 minutes at 350°F. At about half-way through the time, move them a bit so that they cook on all sides. If you don't have an air fryer you can cook them in your oven at the same temperature for 20 minutes. You can also cook them on the stove with some oil.
2
Chop the onion and grate the garlic cloves and the ginger.
3
Add some olive oil to a large pan. Once the oil is hot you can cook the onion, garlic, and grated ginger until golden.
4
Once browned and tender, add all the spices except for salt. Use a spoon to mix.
5
Add the coconut milk, tomato puree, garbanzos, and salt. Cook for 10-12 minutes on low heat.
6
After this time add the eggplant and cook on low heat for 5 more minutes.
7
Serve with some cooked rice.
Tips & Tricks
You can substitute the garbanzos for lentils, it'll come out just as delicious in this curry.
You can add more vegetables like spinach, mushrooms, etc.
You can also add more spices such as garam masala.