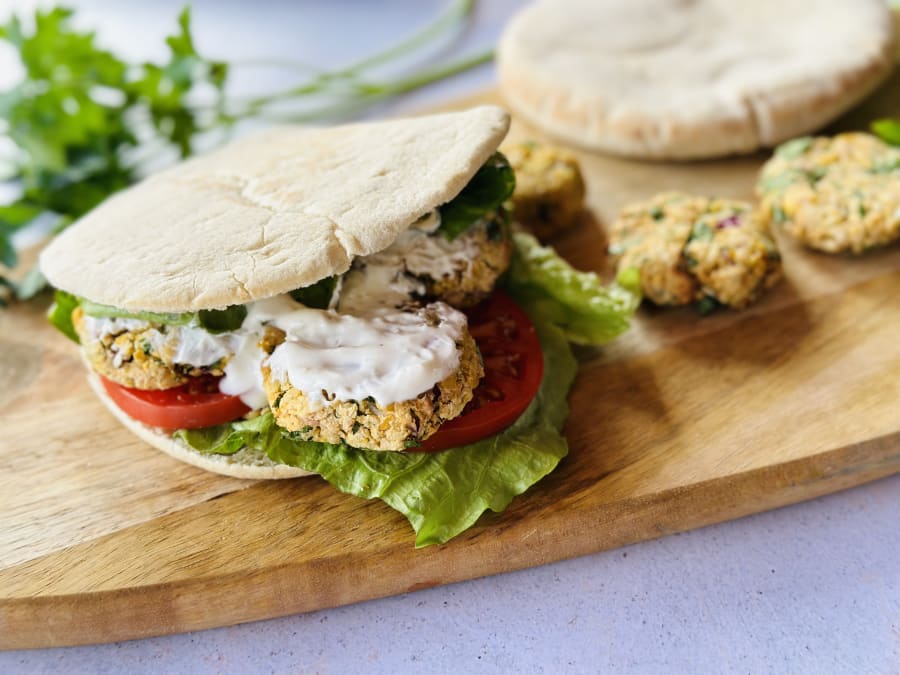 Garbanzo Patties in Pita Bread
"Are you still saying you can't cook with garbanzos? This is a great idea for a dish. Make some mini garbanzo patties using vegetables and cook them in your air fryer or pan. Use them to fill up a pita and you'll see how good of a meal it is!"
ingredients
12
Difficulty
Easy
Time
25'
Fresh ingredients

garlic

red onion

tomato

lettuce

cilantro

lemon
Pantry ingredients

wheat flour

salt

cumin powder

black pepper

pita bread

canned chickpea
Instructions
1
Dice the onion and garlic clove.
2
Add the cooked garbanzos, garlic, onion, chopped cilantro, flour, drizzle of lemon juice, and a pinch of salt and cumin to your blender or food processor. Blend a few times until the ingredients are blended and are a puree.
3
Grease your hands and pick up a bit of the batter. Make mini hamburgers until you no longer have any batter.
4
Place them on some parchment paper that is lining your air fryer basket and drizzle with a bit of oil. Cook at 350°F for 10 minutes. Halfway through, open the basket and flip them over so they cook on both sides. If you prefer to cook them on the stove, you can do so with a bit of olive oil.
5
While the garbanzo patties are cooking, take advantage and make the yogurt sauce. Add the unsweetened yogurt into a bowl. Next, add half a clove of garlic (finely chopped), juice from 1/2 lemon, pinch of salt and black pepper. Mix well and taste. If it needs more lemon or salt, add more. Set aside.
6
Toast the pita, cut open, and place some lettuce, a few slices of tomato, several of the garbanzo patties, and then drizzle the yogurt sauce on top. Finish by adding just a bit more lettuce and then close the pita and serve.