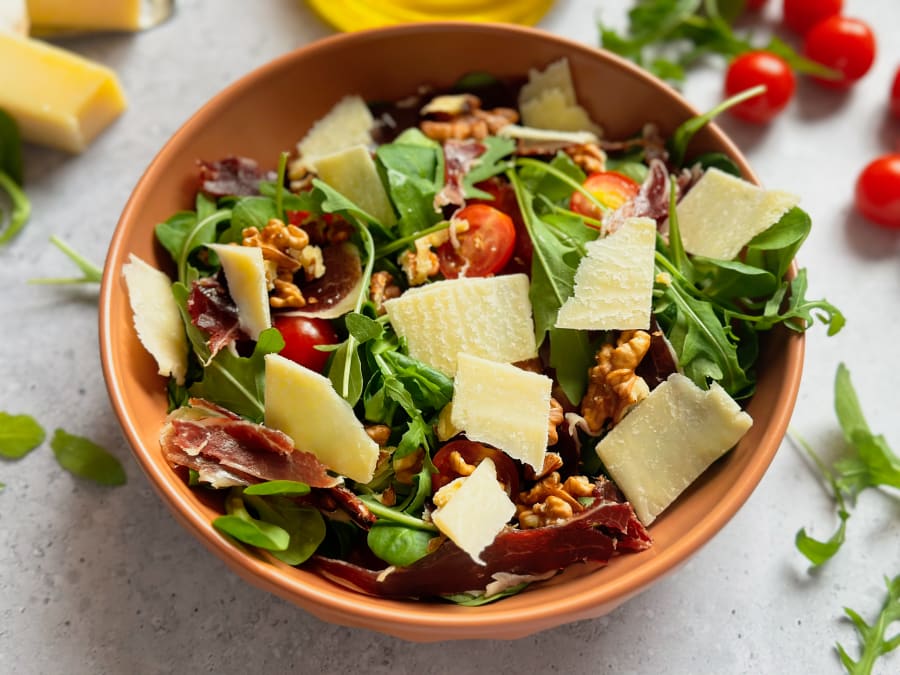 Green Salad with Serrano Ham and Parmesan
"This salad is perfect for those days that you're low on time to cook, or you're actually just not in the mood to spend a lot of time in the kitchen. This dish includes a variety of lettuce, Serrano ham, parmesan cheese, and is dressed with oil, vinegar, and salt. Doesn't it sound amazing?"
ingredients
6
Difficulty
Easy
Time
10'
Fresh ingredients

lettuce

arugula

cherry tomato

serrano ham

parmesan cheese
Pantry ingredients

walnut
Instructions
1
Place the lettuce and arugula in the salad bowl.
2
Wash and halve the cherry tomatoes and slice the Serrano ham into slices.
3
Sprinkle the tomato and ham on the lettuce.
4
Add the crushed nuts on top and cut the cheese into small cubes or shred the cheese and sprinkle on top of the salad.
Tips & Tricks
You can dress the salad with extra virgin olive oil, vinegar, and salt.