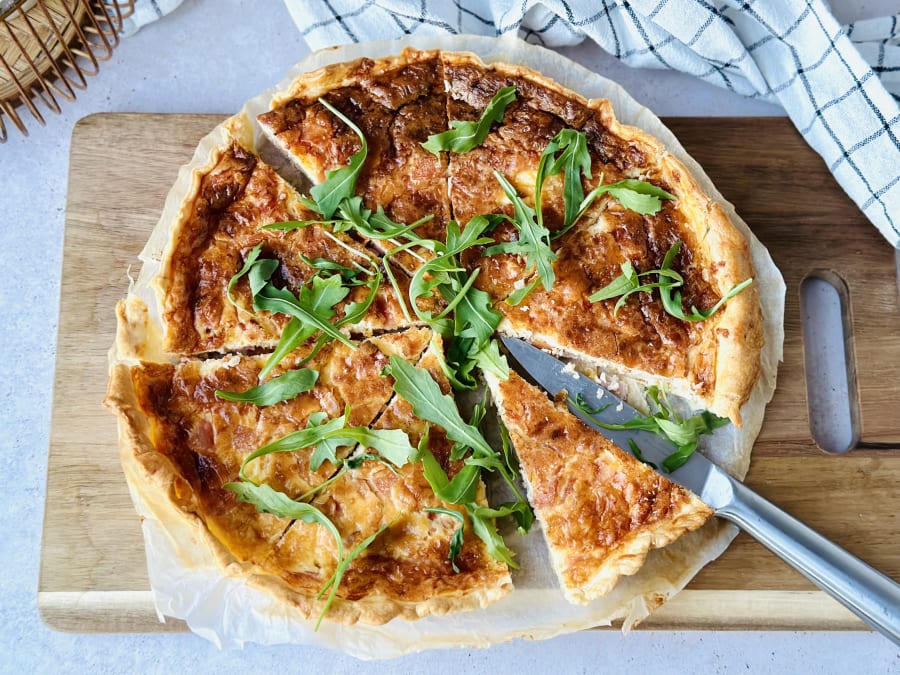 Ham and Cheese Quiche
"If you're in the mood for a shareable dish to bring to your family or friend gatherings that will leave their jaws on the floor, then this ham and cheese quiche is it. It's an easy recipe that is tremendously delicious."
ingredients
7
Difficulty
Easy
Time
45'
Fresh ingredients

short-crust pastry

cooked ham

cheddar cheese

parmesan cheese

egg

light cream
Pantry ingredients

salt
Instructions
1
Preheat the oven to 350°F. with heat on top and bottom.
2
Spread the shortcrust pastry in an 8.5 inch mold and use a fork to prick the dough gently. Set aside.
3
Add the eggs, cream, and a pinch of salt into a bowl. Beat well and set aside.
4
Cut the ham into slices or cubes and grate the cheeses. Add to the bowl and mix using your hands. Evenly distribute the ham and cheese on the shortcrust pastry.
5
Add the beaten eggs with the cream on top of the ham and cheese and take care that it fills in evenly.
6
Place in the oven and bake for 30 minutes.
7
You can serve accompanied by a salad or a handful of arugula on top.