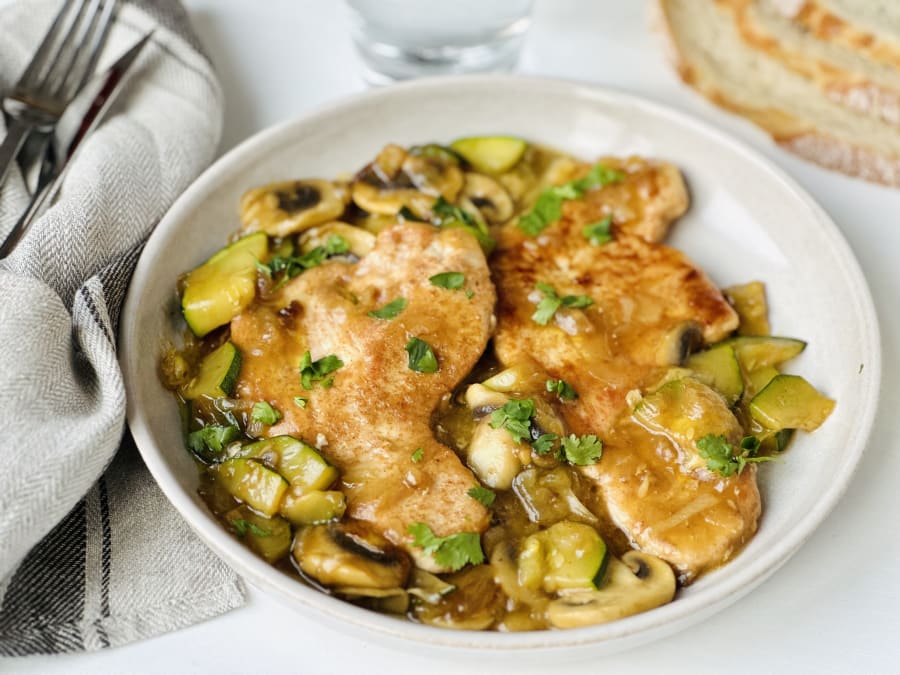 Juicy Turkey with Mushrooms and Zucchini
"It's impossible to let this flavorful dish pass you by! Get excited to make it and enjoy every bite of juicy turkey with vegetables. It's tasty and easy to make."
ingredients
10
Difficulty
Easy
Time
30'
Fresh ingredients

turkey breast

zucchini

mushroom
Pantry ingredients

wheat flour

olive oil
chicken broth

white wine

salt

black pepper

corn starch
Instructions
1
Cut the turkey breast into several filets and add a bit of salt and pepper. Dip each piece into some flour.
2
Add some olive oil to a pan and once it's hot, cook the turkey. Once it's ready, set aside on a plate.
3
Finely dice the onion. Wash and slice the mushrooms and zucchini.
4
Use the same pan from before and add more oil. Lightly fry the onion on medium-high heat for several minutes.
5
Add the zucchini and mushrooms and cook for 4-5 minutes on medium heat. Add some salt to the vegetables.
6
Place the turkey breast in the pan and in-between the vegetables.
7
Add the broth and the white wine. Cook on high heat until it begins to bubble. Lower the heat and add the cornstarch diluted with a bit of water.
8
Cook on medium-low heat until the sauce thickens to your liking.
Tips & Tricks
To complete the dish you can serve it accompanied by pasta, rice, potatoes, etc.
We used wheat flour in the recipe. Use whichever flour you have at home.