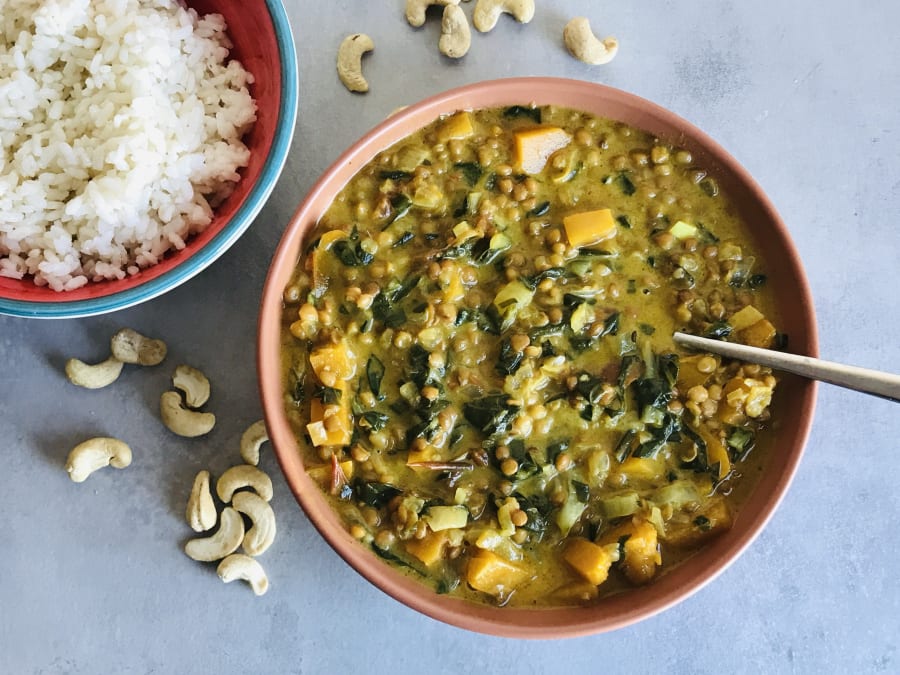 Lentil Curry with Pumpkin and Swiss Chard
"Enjoy this delicious lentil curry. The pumpkin and swiss chard go hand-in-hand with this fantastic dish. Get fired up and enjoy this meal tonight."
ingredients
12
Difficulty
Easy
Time
0'
Fresh ingredients

onion

ginger

butternut squash

Swiss chard
Pantry ingredients

canned lentil

curry powder

coconut milk

water

salt

olive oil

cumin powder

potato
Instructions
1
Dice the onion, pumpkin, and potato into medium-sized cubes.
2
Wash and slice the swiss chard.
3
Add a drizzle of oil to a pot and once it's hot cook the onion and pumpkin on medium heat for 10 minutes. Add the grated ginger and mix.
4
Add the drained lentils, some salt, and ground cumin. Cook for 3-4 minutes. Add the swiss chard, coconut milk, and water. Make sure everything is covered and then add a pinch of salt and the curry.
5
Cover the pot and cook for 20-25 minutes. Taste to see if the flavor is right, and then correct the salt if necessary.
Tips & Tricks
You can accompany this dish with some cooked rice.