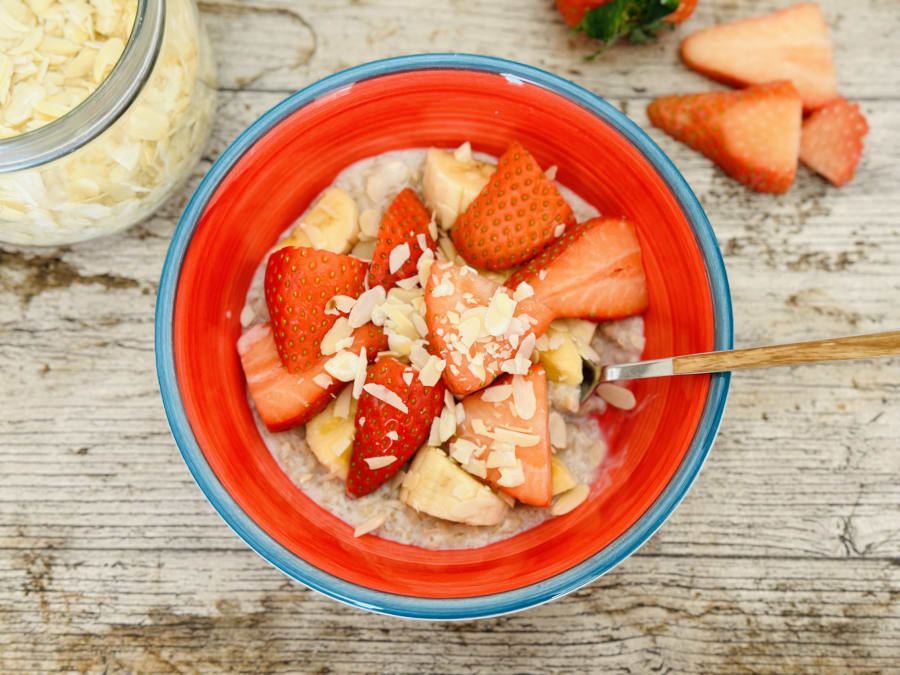 Oatmeal with Bananas and Strawberries
"Don't let not having enough time in the morning be an excuse to eat just anything for breakfast. This healthy and nutritious oatmeal breakfast with fruit will be ready in as little as 15 minutes. It's an ideal way to start your day!"
ingredients
5
Difficulty
Easy
Time
15'
Fresh ingredients

strawberry

banana
Pantry ingredients

milk

oats

honey
Instructions
1
Add the milk and rolled oats to a pot. Add the honey and cook on medium heat for 10-12 minutes, stirring occasionally. Add a bit of cinnamon, if you'd like, a few minutes before the time is up.
2
Dice the banana and strawberries into small cubes.
3
Serve the oatmeal in two bowls and sprinkle the fruit on top.
Tips & Tricks
You can make this recipe vegan by using a plant-based milk or agave syrup instead of honey.
You can finish by adding a handful of sliced almonds on top.
If you would like to make this gluten-free, make sure that the rolled oats that you use are certified "Gluten-Free."