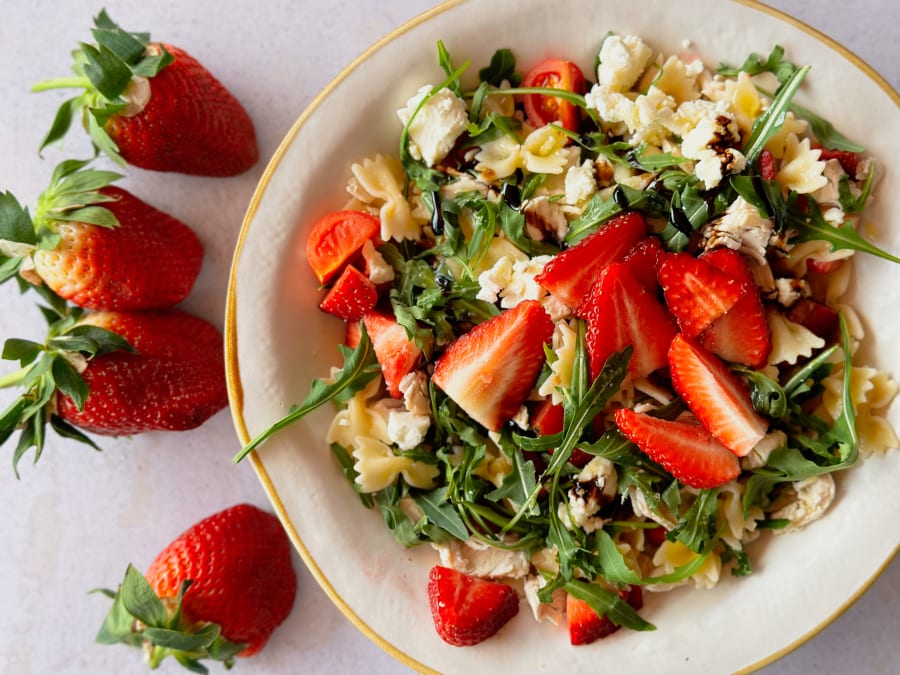 Pasta Salad with Strawberries and Turkey
"This salad recipe is perfectly delicious to pack up into a tupperware and take anywhere. It's a combination of pasta with veggies and fruits. It's also filled with protein such as turkey. How delicious!"
ingredients
7
Difficulty
Easy
Time
20'
Fresh ingredients

cherry tomato

arugula

strawberry

goat cheese

turkey breast
Pantry ingredients

salt

pasta
Instructions
1
Cook the pasta in boiling water for the time indicated on the packaging. Drain and let it cool.
2
Wash the strawberries and cherry tomatoes. Dice the strawberries and cherry tomatoes into small cubes on a cutting board.
3
Fill a pot with water and once it begins to boil add the turkey along with a pinch of salt. Cook for about 15 minutes. After this time remove the turkey and place on your cutting board. Use a fork to hold down the turkey and begin to either slice or dice.
4
Add the pasta to a salad bowl. Next, add the strawberries and cherry tomatoes. Mix. Add the arugula, sliced turkey and shredded cheese. Mix the ingredients again and serve.
5
You can dress this salad with oil and balsamic vinegar reduction. It's delicious!
Tips & Tricks
You can skip over the step of boiling the turkey and simply cook in in a pan with a bit of oil and salt.