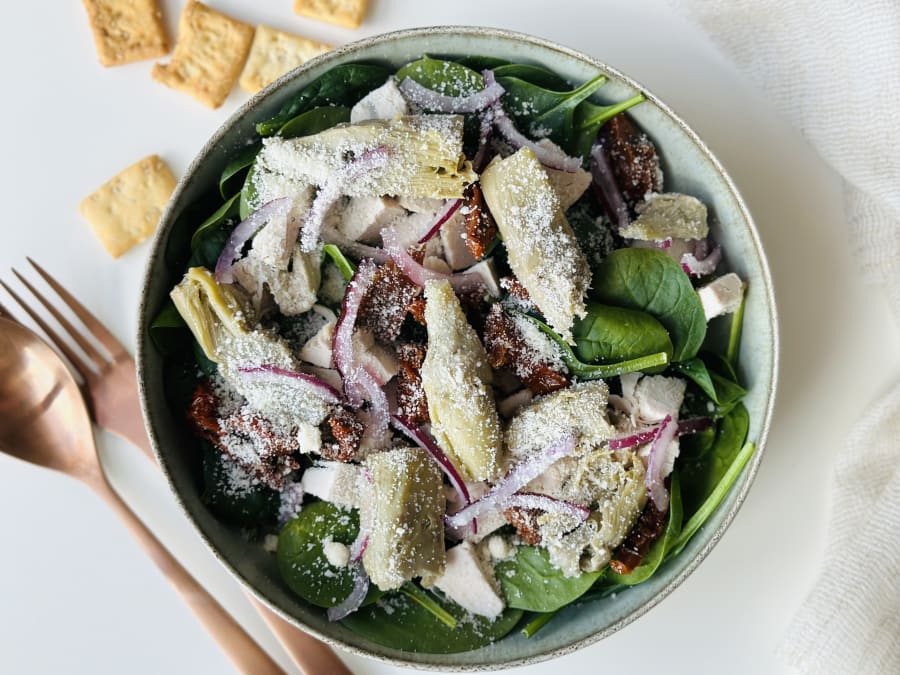 Spinach Salad with Artichokes and Sun-Dried Tomatoes
"When you're running low on time and you are in the mood to eat well, we've got the perfect recipes for you. This salad is full of exquisite ingredients: artichokes, spinach, sun-dried tomatoes, parmesan cheese…it's an elegant salad that is full of flavor and can be ready in less than 15 minutes."
ingredients
6
Difficulty
Easy
Time
15'
Fresh ingredients

spinach

red onion

parmesan cheese
Pantry ingredients

sun-dried tomato

chicken breast

canned artichoke
Instructions
1
Remove the sun-dried tomatoes and artichokes from their containers and place on paper towels. Halve the artichokes and slice the sun-dried tomatoes.
2
Add some oil to a pan and cook the chicken. Cut into cubes and set aside. If you have roasted chicken or any type of chicken in your fridge, just cut that up into cubes.
3
Place the spinach into a salad bowl. Add the roasted chicken, sliced sun-dried tomatoes, artichokes, and red cabbage as well.
4
Sprinkle some grated parmesan on top and dress as desired.
Tips & Tricks
You can dress the salad with the following Italian dressing that we propose. In a bowl add a tablespoon of white wine vinegar, one tablespoon of lemon juice, one teaspoon of mustard, one teaspoon of honey, finely chopped half clove of garlic, 1/2 cup of olive oil, a bit of oregano, and salt. Whisk the dressing together until emulsified.