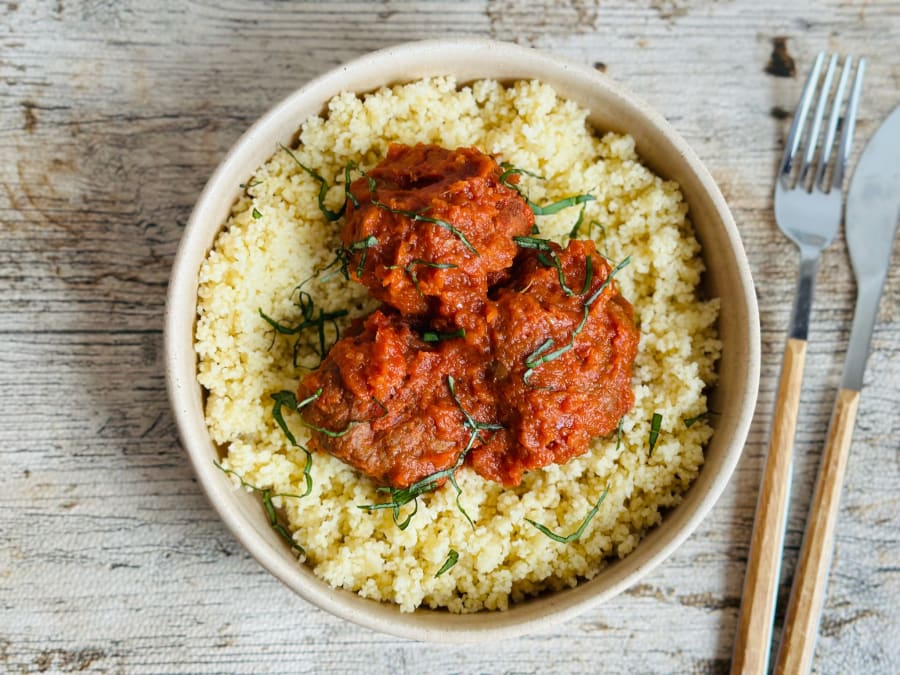 Turkey Meatballs with Tomato Sauce
"Turkey meatballs are an irresistible treat that everyone loves. Accompany them with a bit of rice and homemade tomato sauce from this recipe and you'll see what a great dish this is!"
ingredients
13
Difficulty
Easy
Time
40'
Fresh ingredients

ground turkey

garlic

egg

parsley

onion
Pantry ingredients

white sandwich bread

breadcrumbs

milk

salt

black pepper

cumin powder

wheat flour

tomato puree
Instructions
1
Wash and finely dice the parsley and grate the garlic. Set aside.
2
Place the slice of bread in a bowl. Add some milk so that it softens.
3
Add the ground turkey, grated garlic, egg, salt, pepper, cumin, and chopped parsley. Mix (you can use your hands if you think it'll be easier).
4
Add the breadcrumbs and keep mixing.
5
Grease your hands with some oil and pick up some of the meatball mixture and give it a round shape.
6
Add flour to a plate and lightly roll each meatball in it. Next, place the meatballs into the air fryer rack and drizzle some olive oil on top. Program the air fryer for 15 minutes at 375°F. Move the meatballs around about halfway through so that they cook on all sides. If you don't have an air fryer, don't worry, you can fry them in a pan with some hot oil.
7
While the meatballs are cooking you can prepare the sauce. For this, you can finely dice the onion and if you would like, some green bell pepper.
8
Add some oil to a pan and cook the onion on medium heat. Once it's tender add the tomato puree, and the bell pepper. Add a bit of salt and cook for 10-12 minutes.
9
After this time, add the sauce to the food processor and blend until you get a tomato sauce without bumps. Add the sauce to the pan and then the meatballs and let it cook for 5-7 more minutes. Remove and then immediately serve.
Tips & Tricks
You can accompany these meatballs with some rice.