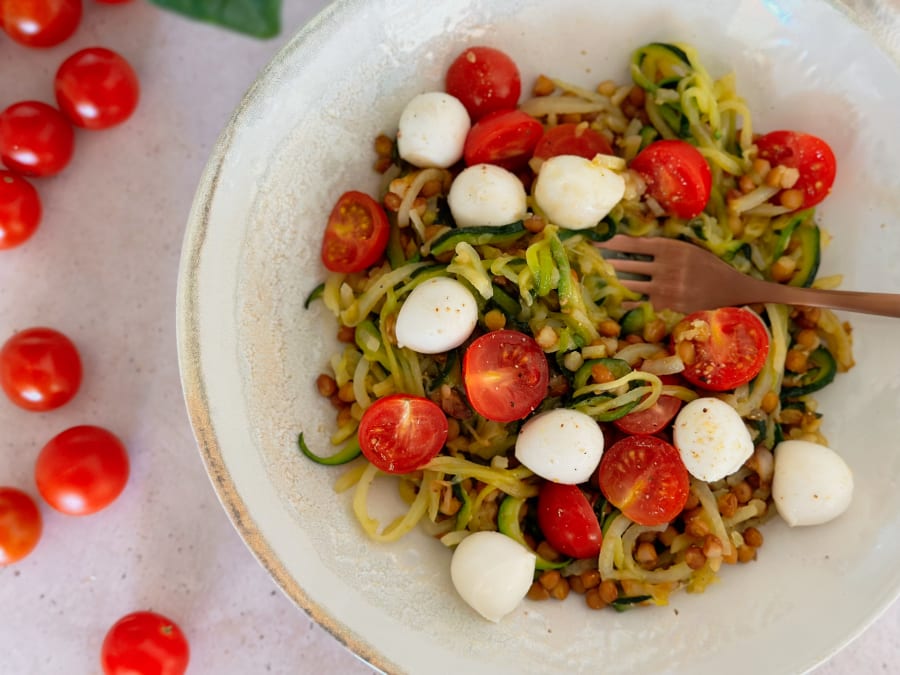 Zucchini and Potato Noodles with Lentils
"Have you ever made noodles made out of zucchini or potato? Discover this original recipe and have fun preparing the ingredients. It's impossible not to like this dish, it's so light, tasty, and simple and all the while being nutritious."
ingredients
8
Difficulty
Easy
Time
20'
Fresh ingredients

cherry tomato

garlic

zucchini

potato
Pantry ingredients

salt

mozzarella cheese

olive oil

canned lentil
Instructions
1
Wash the zucchini and peel the potato. Use a mandoline, peeler, or knife. Cut the zucchini and potato into large strips, so they look like noodles.
2
Peel the garlic and finely dice.
3
Add some oil to a pan and lightly fry the garlic.
4
Add the zucchini and potato noodles and cook for 8-10 minutes on medium. Add some salt.
5
Add the drained lentils and use a spoon or wooden spatula to stir. Cook for several more minutes.
6
Serve the potato and zucchini noodles with lentils in a bowl. Next, add the halved cherry tomatoes and little mozzarella balls.
Tips & Tricks
You can add a bit of black pepper to the dish if desired.