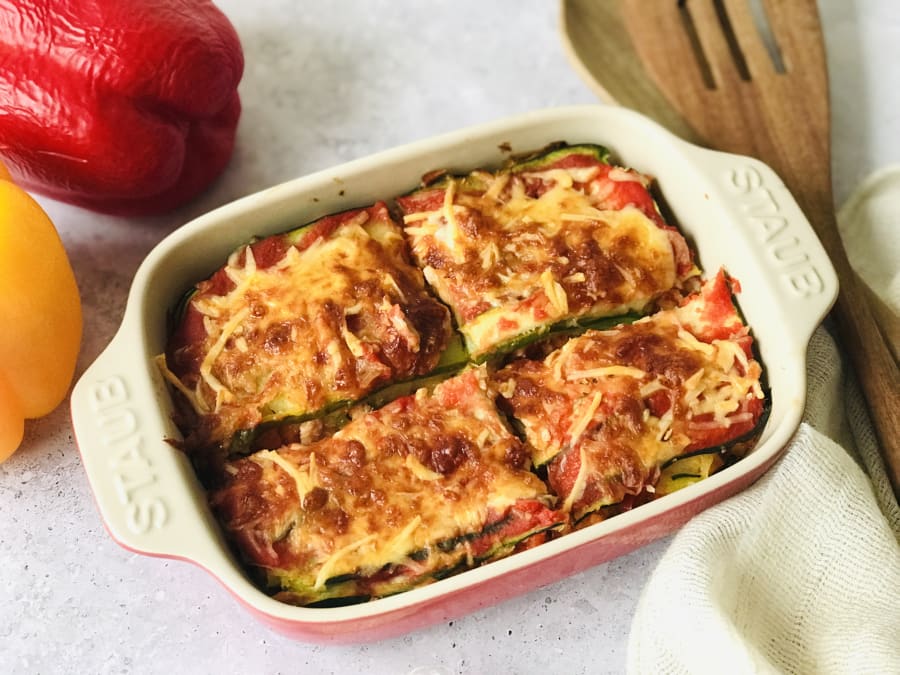 Zucchini Lasagna with Turkey and Vegetables
"We've brought you a recipe that's full of flavor that you're going to like a lot. The turkey cooked with leek, pepper, and carrot results in a juicy filling that will amaze you."
ingredients
9
Difficulty
Easy
Time
35'
Fresh ingredients

zucchini

red bell pepper

onion

carrot

ground turkey

grated cheese
Pantry ingredients

tomato puree

olive oil

salt
Instructions
1
Put water to boil and cook the sliced zucchini for a minute. After this time, turn off the heat, drain, and set aside.
2
Cut the leek, red bell pepper, and peeled carrot into smaller pieces.
3
Add some oil to a pan and once it's hot, cook the vegetables on medium heat for 8-10 minutes until tender.
4
Add some salt to the turkey and add to the pan. Mix with the vegetables and cook until the meat is thoroughly cooked and then add half of the tomato puree. Place the slices of zucchini on top and take care that there is no space in-between. Add a few tablespoons of tomato sauce on top along with some grated cheese. Place in the oven for 10 minutes at 350°F and presto!