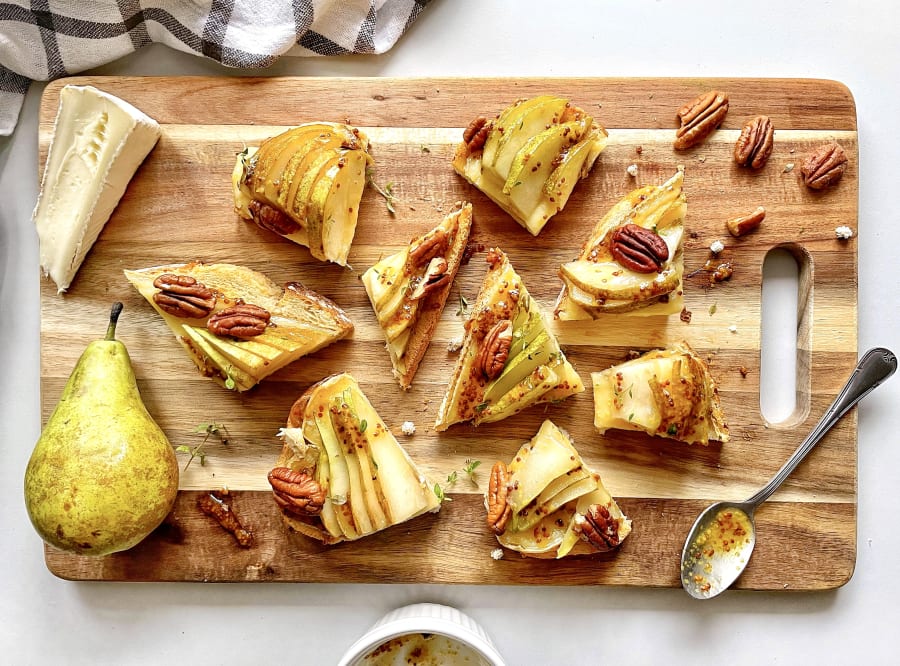 Air Fryer Brie Cheese Toast with Pear
"We've brought you the perfect appetizer for cheese lovers that is combined with fruit. It will be ready in little time and the results are fantastic. We made ours in the airfry but you can make them in the oven as well!"
ingredients
7
Difficulty
Easy
Time
10'
Fresh ingredients

pear

mustard

bread

brie cheese
Pantry ingredients

honey

walnut

olive oil
Instructions
1
Cut the brie and divide onto the two slices of bread. Place in the air fryer at 400°F for approximately 5 minutes.
2
Thinly slice the pear and place on top of the melted brie.
3
Mix the honey with the mustard and oil and divide between the two toasts. Decorate with the walnuts and fresh thyme.
Tips & Tricks
It's important to consume immediately after making them because the bread tends to soften with the cheese and the pears will oxidize.
Use a quality brie and olive oil, they're few ingredients but the secret is to select the best.
If you don't have an air fryer you can use your oven. Add the bread to 350°F for 8-10 minutes, until you see that the bread is toasted and the cheese is melted. Turn off the oven and continue on to the next steps in the recipe.