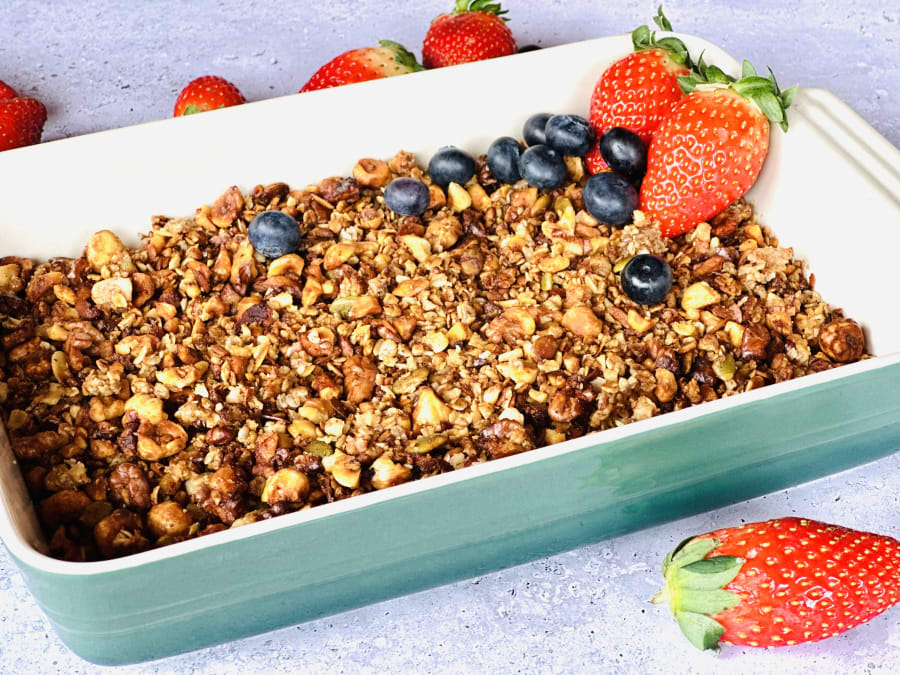 Air Fryer Granola
"Forget about buying granola for breakfast and make it yourself in the airfryer. It's easy to make and rest assured you'll have delicious and healthy breakfasts for the next few days!"
ingredients
9
Difficulty
Easy
Time
25'
Fresh ingredients
Pantry ingredients

sunflower seed

water

honey

oats

cinnamon

walnut

hazelnut

almond

coconut oil
Instructions
1
Add all of the nuts and the pumpkin seeds to a food processor and give it a few whirls until everything is chopped but not pulverized. Set aside.
2
Add the water, honey, and melted coconut oil to a bowl. Mix with a spoon.
3
Add the liquid ingredients to the nuts and mix.
4
Add the oats and mix again.
5
Lastly, add the cinnamon.
6
Place a piece of parchment paper into your air fryer basket. Evenly distribute the granola in the basket.
7
Program your fryer for 18 minutes at 345°. After about 10 minutes, open the fryer and use a spoon to stir the granola so that it toasts on both sides. Close again. After 5 minutes, when there are about 5 minutes left, open it again and stir again.
8
Once the time is up, remove the granola from the air fryer, and place in a container to cool. Once it has cooled down it will be crunchy.
Tips & Tricks
You can substitute the nuts from the recipe to your favorite ones.