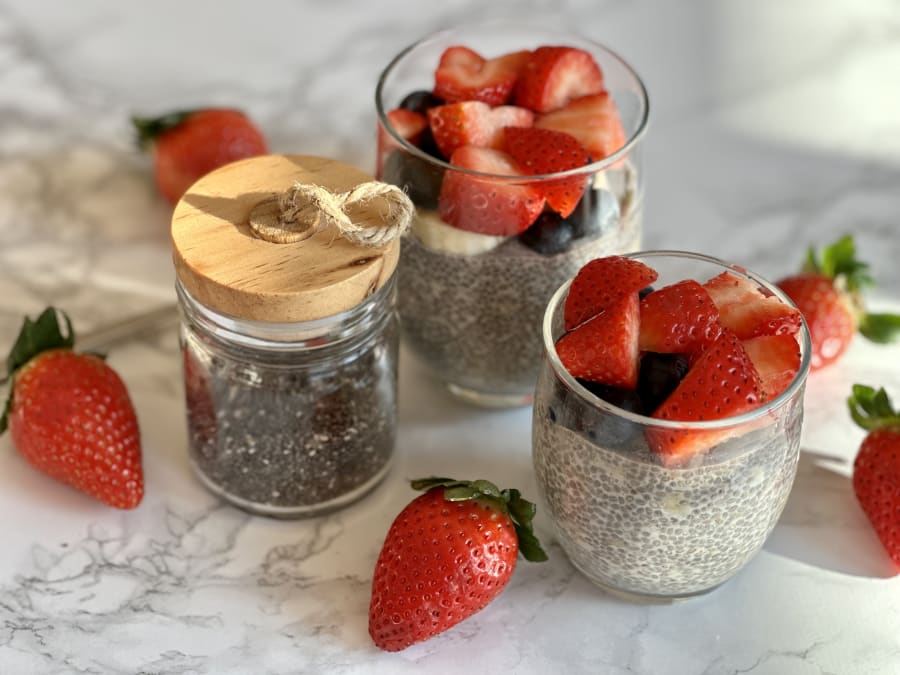 Banana Chia Pudding
"A delicious, easy, and healthy breakfast as requested! It requires few ingredients and can be prepared in 5 minutes. You can make more, and combine with other fruits so you can make several breakfasts for the week. What do you think?"
ingredients
6
Difficulty
Easy
Time
5'
Fresh ingredients

banana

strawberry

blueberry
Pantry ingredients

chia seed

plant-based milk

cinnamon
Instructions
1
Peel a banana and use a fork to mash until you get a banana puree. Set aside the other half of the banana to add to the top later.
2
Add the chia, milk and cinnamon and mix.
3
Add the puree with milk and cinnamon to a bowl and cover it and shake.
4
Divide into two cups and place in the fridge and wait about 3 hours. Ideally it is best to leave it overnight.
5
After this time, serve accompanied by some banana, strawberries, and blueberries on top. Enjoy!
Tips & Tricks
You can use your favorite type of milk, whether it is plant-based or not.
You can sweeten it more by adding agave syrup, honey, or whichever sweetener you prefer.
If your chia seeds are not fresh (they're old) it may be possible that you won't reach the texture of the pudding that you desire. To avoid this, make sure your seeds are good.