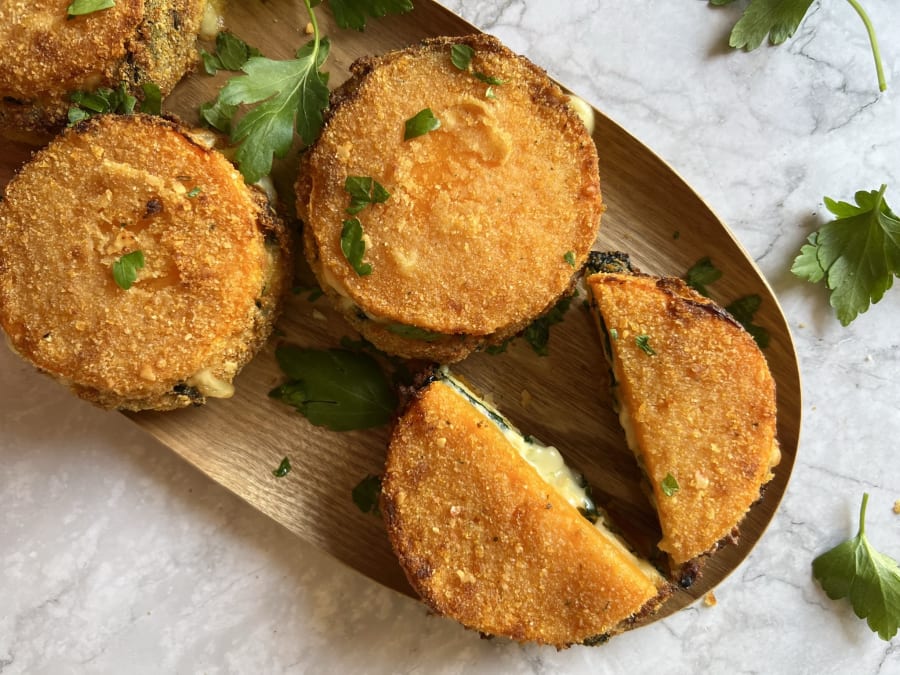 Breaded Spinach-Filled Butternut Squash
"These breaded butternut squashes are a light and healthy alternative for dinner this week. They're economical, easy, and use ingredients you most likely already have at home. Will you try making them? We made ours in the air fryer and they turned out marvelous."
ingredients
8
Difficulty
Easy
Time
40'
Fresh ingredients

butternut squash

egg

sliced cheese

spinach

onion
Pantry ingredients

salt

olive oil

breadcrumbs
Instructions
1
Cut the squash into approximately 0.5 centimeter thick slices.
2
Steam cook in the microwave for 8-9 minutes. Let it cool.
3
Lightly fry the onion for several minutes in a pan. Add the spinach and let it reduce.
4
Beat the eggs and add to the pan, cooking for a few seconds and then removing from the heat.
5
In order to put the dish together, place some cheese on top of a slice of squash with a bit of the spinach scramble. Place another slice of cheese on top and then finish by adding another slice of squash.
6
Dip in the beaten egg and breadcrumbs or crushed cereals and then press hard so that the filling doesn't come out. Cook in the air fryer at 400°F until they are golden.
Tips & Tricks
The squash that we used is Butternut.
If you like to batch cook you can roast the squash ahead of time and make the breaded squash throughout the week.
If you would like, you can use almond flour or crushed corn flakes instead of the breadcrumbs.