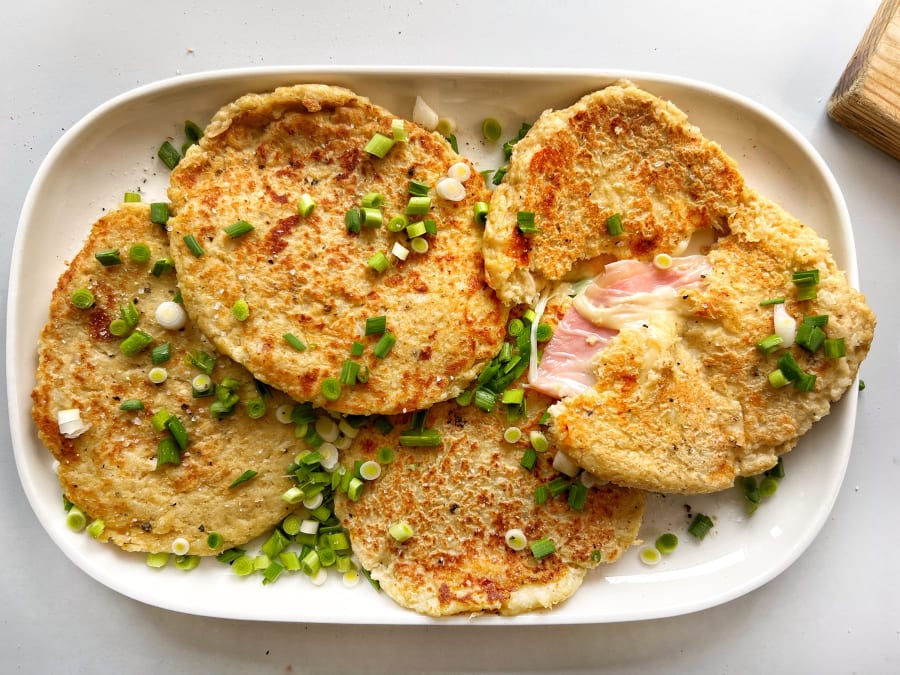 Cauliflower Pancakes filled with Ham and Cheese
"Are you in the mood for a quick and easy way to eat cauliflower? These pancakes are stupendous. You can eat them for breakfast, lunch, or dinner! It's the perfect recipe for cauliflower lovers and for those who have a hard time eating cauliflower because they're so delicious."
ingredients
9
Difficulty
Easy
Time
30'
Fresh ingredients

egg

sliced cheese

cooked ham

cauliflower

parmesan cheese
Pantry ingredients

milk

salt

olive oil

oat flour
Instructions
1
Steam the cauliflower by putting it in the microwave on high for 8 minutes. Let it cool down and then mash.
2
Remove the liquid by using a clean towel and add the cauliflower into a bowl along with the rest of the ingredients. Mix. Meanwhile you can heat up a lightly greased pan.
3
Pour one tablespoon of the batter into the pan and move it around in a circle so it spreads out. Place the ham and cheese in the middle and then cover with more batter. Flip it over so that both sides cook and enjoy immediately.
Tips & Tricks
Broccoli can also be used in this recipe, as it's an option that the young ones are sure to love.
The parmesan cheese is optional, but helps add good flavor.
You can use whole wheat flour or spelt if you would like.