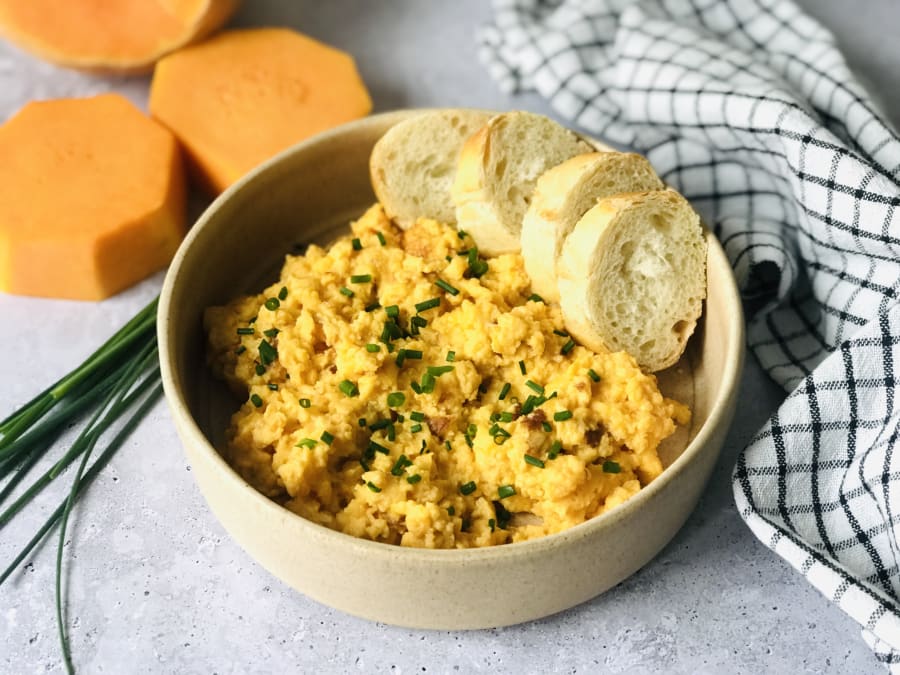 Creamy Scrambled Eggs with Cheese and Pumpkin
"Enjoy these amazing scrambled eggs. They're going to be smooth, and juicy and you're not going to believe that they contain pumpkin. They're perfect for your little ones if they need to start eating more vegetables because they'll never be able to tell!"
ingredients
5
Difficulty
Easy
Time
20'
Fresh ingredients

egg

grated cheese

butternut squash
Pantry ingredients

salt

olive oil
Instructions
1
Peel the pumpkin and cut into small cubes.
2
Add water to a pot and heat it up. Once it begins to boil add the cubed pumpkin. Lower the heat a bit and cook until you can prick with a fork and it's tender. It can take around 15 minutes. Once cooked, drain, and mash with a fork or with a blender until you have a pumpkin puree.
3
Beat the eggs with a bit of salt and mix with the pumpkin puree.
4
Heat up some oil in a pan and once it's hot enough add the beaten eggs with pumpkin. Let it cook a bit and then add the cheese. Use a wooden spatula to begin scrambling the eggs and stirring them until cooked to your liking.
5
Serve accompanied with a few slices of toast or crackers.