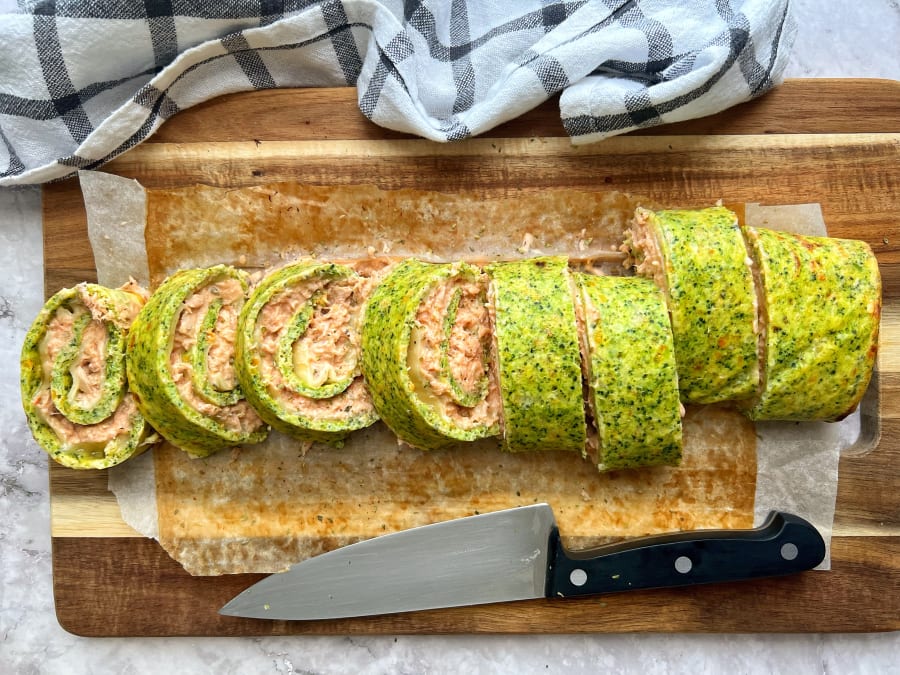 Broccoli Rolls Filled with Tuna
"Are you looking for an original and delicious way to eat broccoli? This recipe is easy to prepare and is full of protein. It's the ideal dinner during the week or for taking to lunch."
ingredients
9
Difficulty
Easy
Time
30'
Fresh ingredients

broccoli

egg

grated cheese

cream cheese

mozzarella cheese
Pantry ingredients

canned tuna

tomato puree

salt

oregano
Instructions
1
Cook the broccoli in the microwave for 4 minutes. Let it slightly cool down.
2
Blend. Add the eggs, cheese, and salt. Blend again.
3
Place onto a baking sheet that is lined with parchment paper and give it a rectangular shape. Bake at 375°F for 15 minutes.
4
Meanwhile, mix the filling together. Add the tuna with the cream cheese, the tomato puree, and dried oregano into a bowl.
5
immediately after the broccoli dough comes out the oven, place the 4 slices of cheese on top followed by the tuna. Start rolling while pressing down well.
6
As an option you can place back in the oven for several minutes so the cheese melts.
7
Cut into your portions and enjoy immediately!
Tips & Tricks
This is a dish that you can make ahead of time and enjoy either cold or hot. It will keep for about a day or two in the fridge.