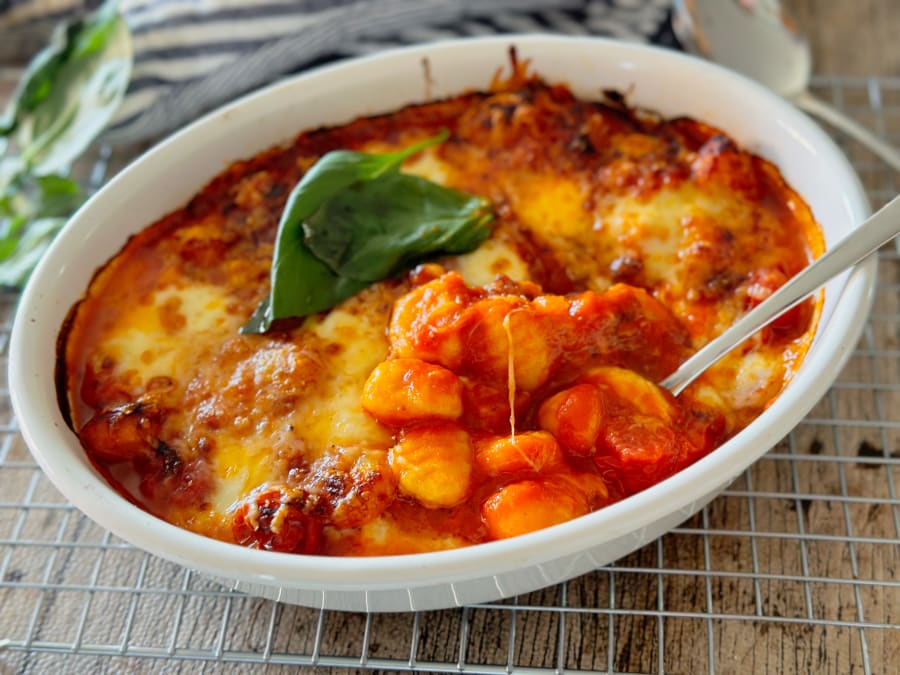 Gnocchi a la Sorrentina
"We've brought you an exaggeratingly good recipe today. These gnocchis are extra delicious when they're cooked this way. This dish requires few ingredients that are easy to find. You'll see how tasty this dish is!"
ingredients
11
Difficulty
Easy
Time
20'
Fresh ingredients

gnocchi

scallion

garlic

cherry tomato

mozzarella cheese

parmesan cheese
Pantry ingredients

olive oil

salt

black pepper

basil

tomato puree
Instructions
1
Add an abundant amount of water into a pot with some salt. Once it begins to boil add the gnocchi and cook for the time indicated on the packaging. It shouldn't take too long.
2
Finely slice the scallions and garlic.
3
Add olive oil to a large pan. Once it's hot add the onion and garlic and cook on low heat until golden.
4
Add the cherry tomatoes to the pan and cook on medium heat for 3 minutes.
5
Add the tomato sauce, a bit of salt and pepper, and a basil leaf. Cook on low for 10 minutes, stirring occasionally.
6
After this time, remove the basil and add the gnocchi and half of the mozzarella cheese. Mix everything.
7
Add the contents of the pan into an oven-safe dish and finish by sprinkling the rest of the mozzarella and parmesan on top.
8
Place in the oven to cook au gratin for several minutes until the cheese has melted and the sauce has started bubbling. Serve immediately and add some sliced basil on top.