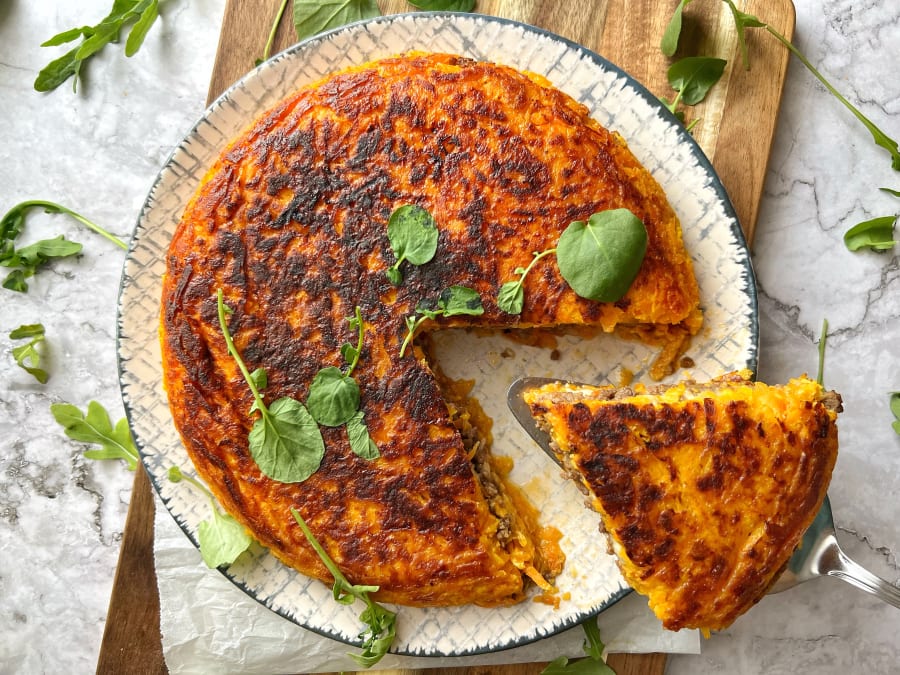 Pan Pumpkin Frittata
"This frittata is very similar to a Spanish omelet but is lighter, it contains less eggs and is spectacular with the filling we suggest. If you're looking for a dish full of nutritious ingredients, then this is for you!"
ingredients
11
Difficulty
Medium
Time
35'
Fresh ingredients

butternut squash

carrot

red bell pepper

egg

sliced cheese

ground meat
Pantry ingredients

salt

garlic powder

black pepper

oat flour

olive oil
Instructions
1
Start by grating the pumpkin and carrot. Add the beaten eggs, the salt, and oat flour. Mix until all the ingredients are well integrated.
2
Add some salt, garlic powder, and pepper to the ground beef. Heat up a pan on medium heat with some oil and cook the meat with the finely diced red bell peppers until cooked thoroughly. Remove and set aside.
3
Use the same pan and add a few tablespoons of olive oil. Heat on medium. Once the oil is hot, pour half of the pumpkin into the pan and then fill with the cheese and meat you had set aside. Cover with the rest of the pumpkin and press down well, giving it a Spanish omelet round shape.
4
Cook covered for approximately 8 minutes. Use a spatula to unstick the frittata on the sides and carefully flip it over.
5
Cook for 8 more minutes on the other side and serve immediately.
6
You're going to love it!
Tips & Tricks
We used large eggs in this recipe.
This frittata can be made with other vegetables like potato and zucchini, but if you decide to use these two, make sure you remove any excess water before using.
For the filling you can use whichever protein you would like. You can use your leftover chicken, tuna, or tofu.
In order to flip it easily and to prevent burns, you can cover the plate and pan with a towel.
It is important that you use a non-stick pan.
You can use normal flour instead of oat flour.