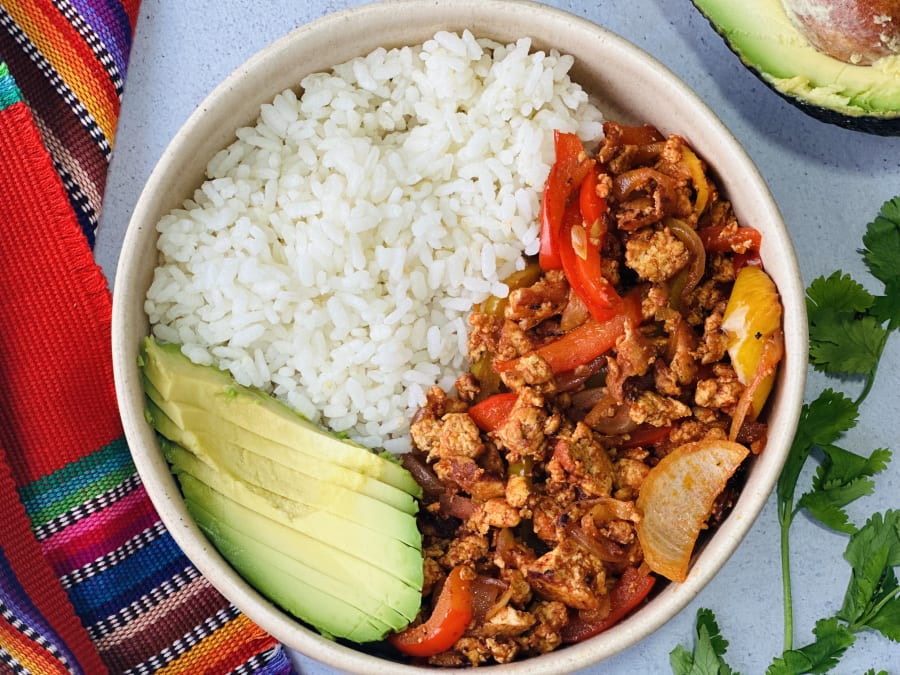 Tofu Bowl
"Preparing tofu in a fun and delicious way is possible! This bowl full of color and flavor is a prime example. Learn how to make it and enjoy a tasty and nutritious bowl."
ingredients
10
Difficulty
Easy
Time
20'
Fresh ingredients

tofu

red bell pepper

yellow bell pepper

onion

avocado
Pantry ingredients

olive oil

tomato puree

sriracha sauce

rice

salt
Instructions
1
Place the tofu on a paper towel to remove the majority of the excess water. Cut into cubes.
2
Dice the bell peppers and onion.
3
Add some olive oil to a pan. Once it's hot add the tofu and cook for several minutes on each side. Use a wooden spoon to slowly shred it.
4
Add the diced vegetables to the pan and cook for 6-8 minutes, until tender. Mix with the tofu and add a bit of salt to everything.
5
After this time add the tomato sauce and sriracha, mix, and cook for 2-3 minutes. You can add some tablespoons of water if you think it necessary to be a bit more liquidy.
6
Add some cooked rice to a bowl followed by the tofu with bell pepper you've just cooked and then the sliced avocado. It's that easy!
Tips & Tricks
We had pre-cooked rice but if you don't have any, prepare it as indicated in the instructions on the packaging.