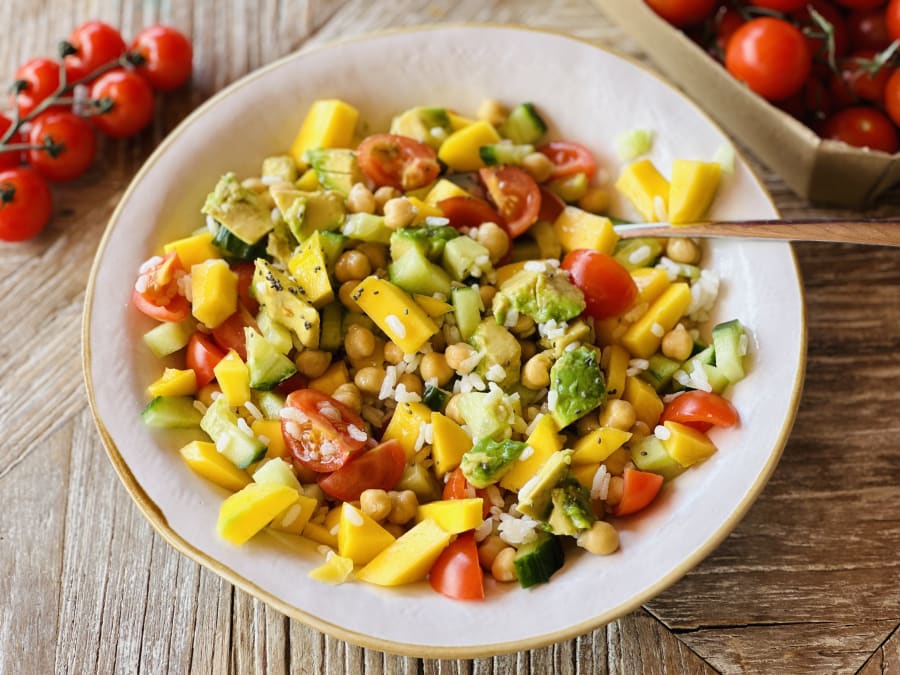 Garbanzo Salad with Avocado and Mango
"Here's an idea for the days that you don't have time to start up your stove! This colorful and nutritious salad is very easy to prepare. All you have to do is dice and mix a little and put everything into a bowl and you're ready to go!"
ingredients
9
Difficulty
Easy
Time
10'
Fresh ingredients

cucumber

cherry tomato

mango

lemon

avocado
Pantry ingredients

canned chickpea

rice

olive oil

salt
Instructions
1
Cut the cucumber, tomatoes, mango, and avocado into small cubes and set aside.
2
Drain the garbanzos from their container and add to a bowl.
3
Add the cucumber, tomatoes, and mango. Also add several tablespoons of cooked rice and mix.
4
Add the diced avocado and dress the salad with a drizzle of olive oil, lemon juice, and salt. It's that easy!
Tips & Tricks
If you don't have pre-cooked rice, make some following the instructions on the packaging.
You can finish this dish off by adding some chia seeds on top.