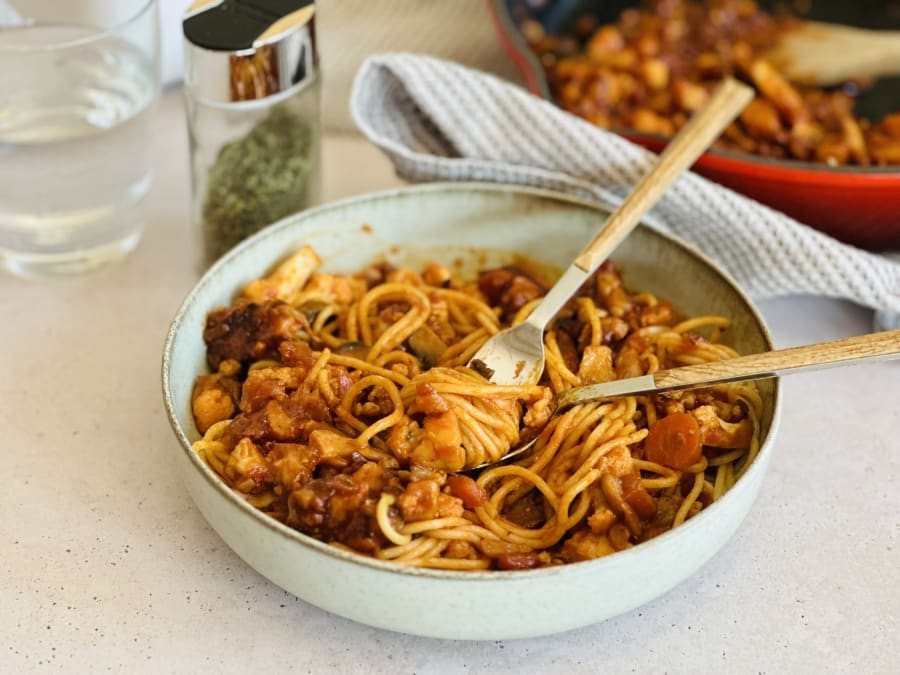 Cauliflower Bolognese
"That cauliflower you have in your fridge is perfect to use in a delicious bolognese sauce. Yes, you read that right, it's perfect for a delicious pasta sauce. Keep reading and follow the recipe!"
ingredients
10
Difficulty
Easy
Time
30'
Fresh ingredients

onion

garlic

mushroom

carrot

cauliflower
Pantry ingredients

spaghetti

olive oil

red wine

salt

tomato sauce
Instructions
1
Start by preparing the vegetables the following way. Dice the garlic and onion on a cutting board. Peel and cut the carrot into small cubes. Wash and dice the mushrooms into medium-sized cubes. Lastly, use a knife to cut the cauliflower into small florets.
2
Add oil to a large pan. Once it's hot add the garlic and onion. Fry on medium heat for 3-4 minutes.
3
Next, add the carrot and the mushrooms and cook on medium-low heat for about 5 minutes.
4
Add the wine to the pan and raise the heat to evaporate the alcohol. Lower the heat and cook the vegetables for a few more minutes.
5
Add the cauliflower to the pan. Add some salt and use a wooden spoon to mix. Cook for a few minutes.
6
Add the tomato sauce and lower the heat and cook on low for 10 minutes.
7
Meanwhile, boil some water in a pot. Once it begins to boil, add the pasta and salt, and cook for the time indicated in the instructions.
8
Place the spaghetti on a plate and pour the sauce on top.
Tips & Tricks
If you see that the sauce isn't as saucy as you'd like you can add more tomato sauce and/or a bit of water.
You can add a chopped celery stick to the vegetables in the sauce.