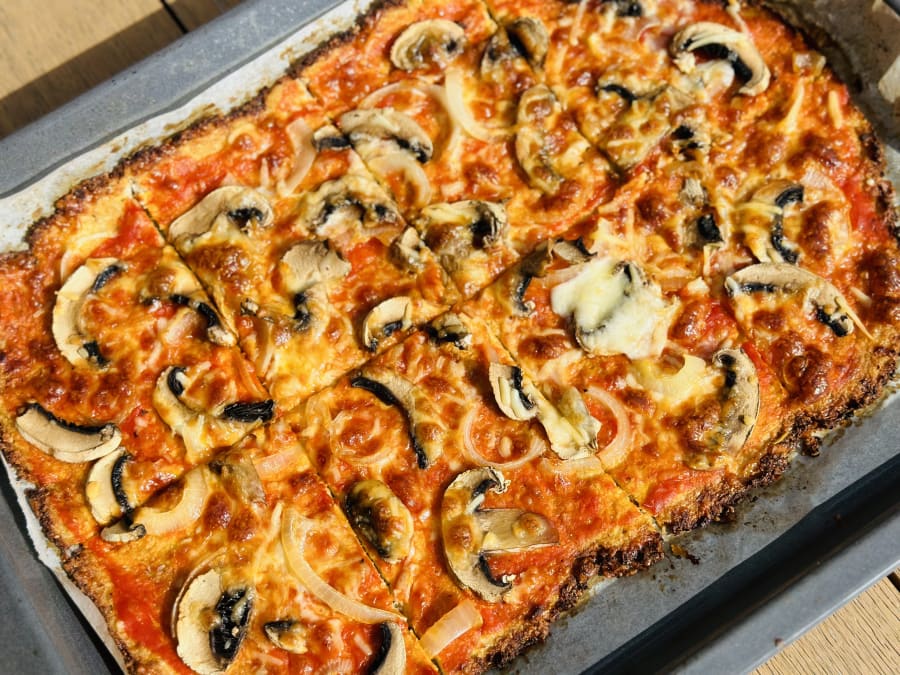 Cauliflower Pizza with Mushrooms and Onion
"Do you have half a cauliflower in your fridge and you don't know how to prepare it? The base of this delicious and fun pizza is cauliflower. So take out that grater and get ready to prepare this delicious pizza."
ingredients
9
Difficulty
Easy
Time
40'
Fresh ingredients

cauliflower

parmesan cheese

egg

mushroom

onion

grated cheese
Pantry ingredients

almond flour

salt

tomato sauce
Instructions
1
Wash and grate the cauliflower.
2
Add the grated cauliflower, almond flour, grated parmesan, beaten egg, and a pinch of salt to a bowl. Use a spatula to mix and then place the dough into the fridge for around 30 minutes.
3
After this time, place a piece of parchment paper on your counter. Add the cauliflower dough on top. Place another piece of parchment paper on top of the dough and use a rolling pin to press down and roll out the dough. Roll it out until you have a pizza shape.
4
Place in the oven and bake for 15 minutes at 400°F.
5
Remove from the oven and pour and spread some tomato sauce on top of the crust. Add the onion and mushrooms and sprinkle some cheese on top of everything. Bake again for 20 minutes at the same temperature.
6
Remove from the oven and serve immediately.