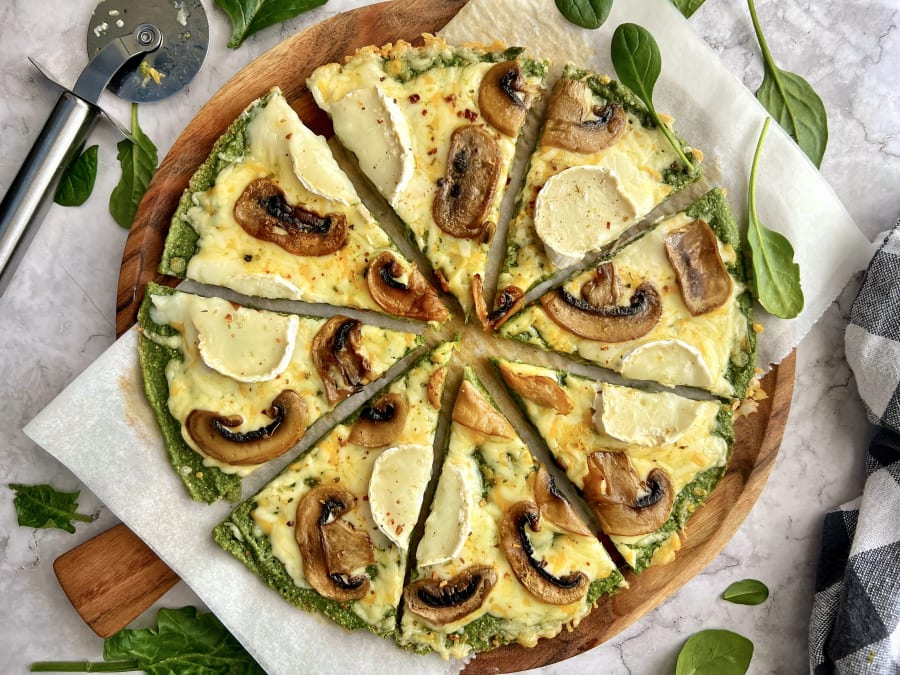 Delicious Pan Pizza Rich in Fiber and Proteins
"Last minute pizza night? Take note on this healthy, light, and gluten-free alternative. It'll be ready in about 20 minutes and requires few ingredients."
ingredients
8
Difficulty
Easy
Time
15'
Fresh ingredients

spinach

mushroom

egg

grated cheese

goat cheese
Pantry ingredients

chickpea flour

olive oil

salt
Instructions
1
Cook the spinach in a pan on medium-high heat until it reduces in size. Use the same pan and add some oil. Cook the mushrooms with a pinch of salt.
2
Mix the spinach with the eggs, garbanzo flour, oil, and 20 ml of water.
3
Lightly grease a pan. Spread the pizza dough onto it and cover with a lid. Cook for 4 minutes on medium.
4
Add the cheeses and mushrooms on top. Cover again for 5 minutes or until the cheese has completely melted.
Tips & Tricks
In this recipe we used Large sized eggs.
It's important that the pan you use is non-stick so that the dough doesn't get stuck to it.
Keep in mind that if you add a sauce then the base of the pizza will moisten and become soft.
You can use homemade garbanzo flour by blending raw garbanzos in a food processor or blender on high until you reach a "flour" consistency. Store it in a container with a tight lid.