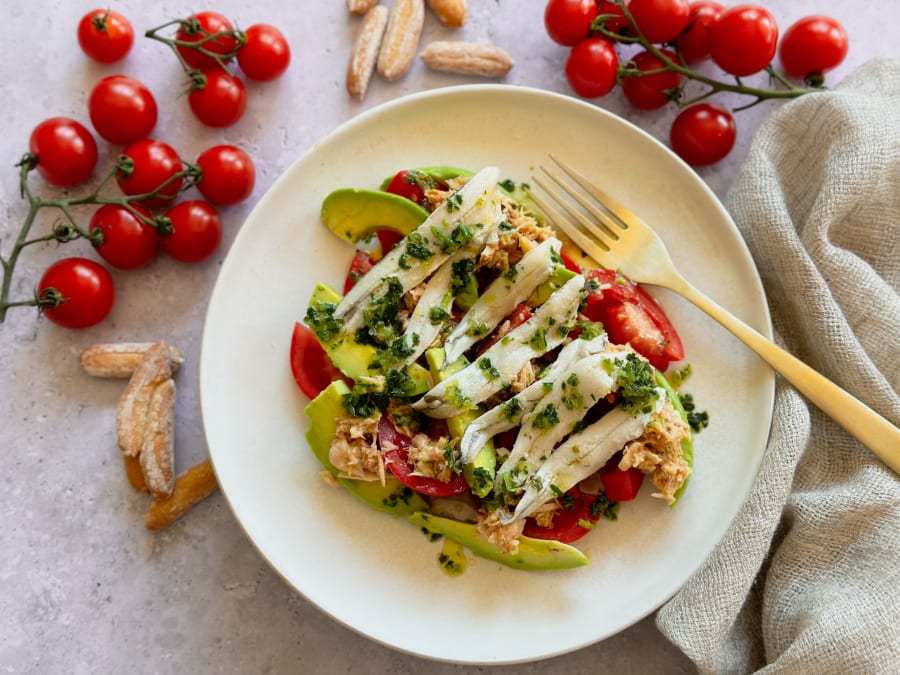 Fresh Anchovy, Tomato, and Tuna Salad
"We've brought you a recipe you need to save and make as many times as possible. It's tasty, and only takes a little bit of time to prepare. You can present it to your friends as a shareable salad at any meals you organize, or eat it any day of the week. It's quick and light."
ingredients
8
Difficulty
Easy
Time
10'
Fresh ingredients

tomato

avocado

garlic

parsley
Pantry ingredients

canned tuna

marinated anchovies

olive oil

salt
Instructions
1
Wash and cut the tomatoes into wedges. Place on a plate.
2
Slice the avocado and place over the tomatoes.
3
Drain the tuna from the cans and add to the salad.
4
Remove the anchovies from the vinegar and add to the salad.
5
Prepare the dressing. Finely chop the garlic and parsley. Place into a small bowl and add the olive oil. Mix well.
6
Drizzle the dressing on top of the salad. Finish by sprinkling some salt flakes on top and enjoy!
Tips & Tricks
If your tomato is small, you can use two.
We used tuna crumbles.