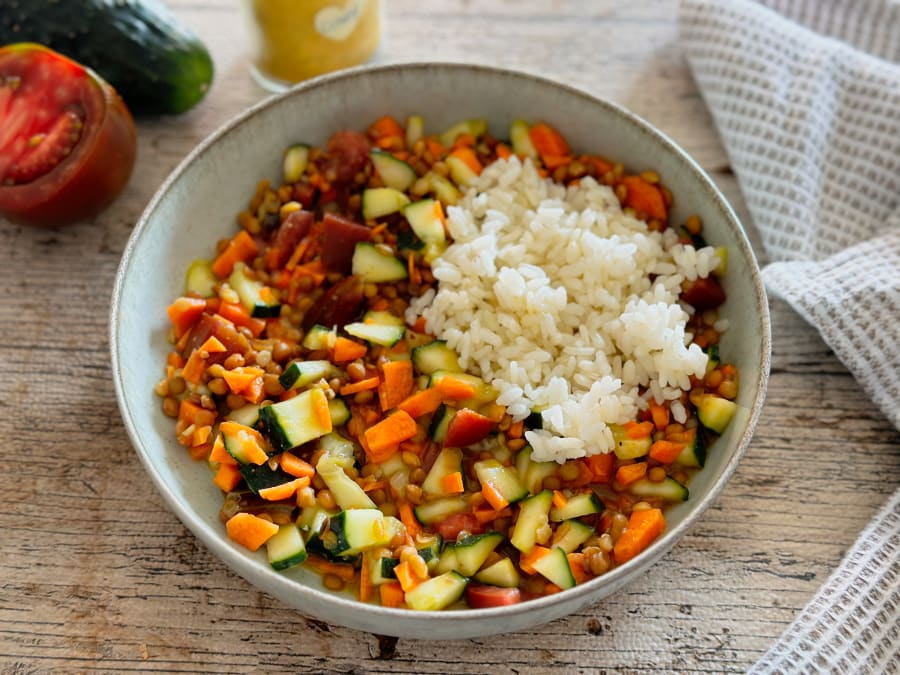 Fresh Curry Lentil Salad
"If you're looking for a refreshing, nutritious, and super quick salad, look no further! It can be ready in about 10 minutes and contains lentils, vegetables, and a bit of rice. It's dressed with a delicious sauce that you can find further into the recipe."
ingredients
10
Difficulty
Easy
Time
10'
Fresh ingredients

carrot

cucumber

tomato

lemon juice
Pantry ingredients

canned lentil

rice

curry powder

olive oil

agave syrup

salt
Instructions
1
Add the oil, drizzle of lemon juice, syrup or honey, curry powder, and pinch of salt to a bowl. Mix well until you have a homogenous sauce.
2
Finely dice the carrot, cucumber, and tomato.
3
Add the sauce you've just prepared to a large mason jar or some container with a lid. Add the carrots, cucumber, tomato, drained lentils, and then close. Shake the jar energetically so that the dressing covers all the ingredients. Then pour the salad onto your plate.
4
Add several tablespoons of cooked rice to your salad and then serve. So easy!
Tips & Tricks
If your carrot is too big, you can use just half.
We took advantage of the already cooked rice we had on hand. If you don't have any ready to go then you can make some following the instructions on the packaging or searching within our app.