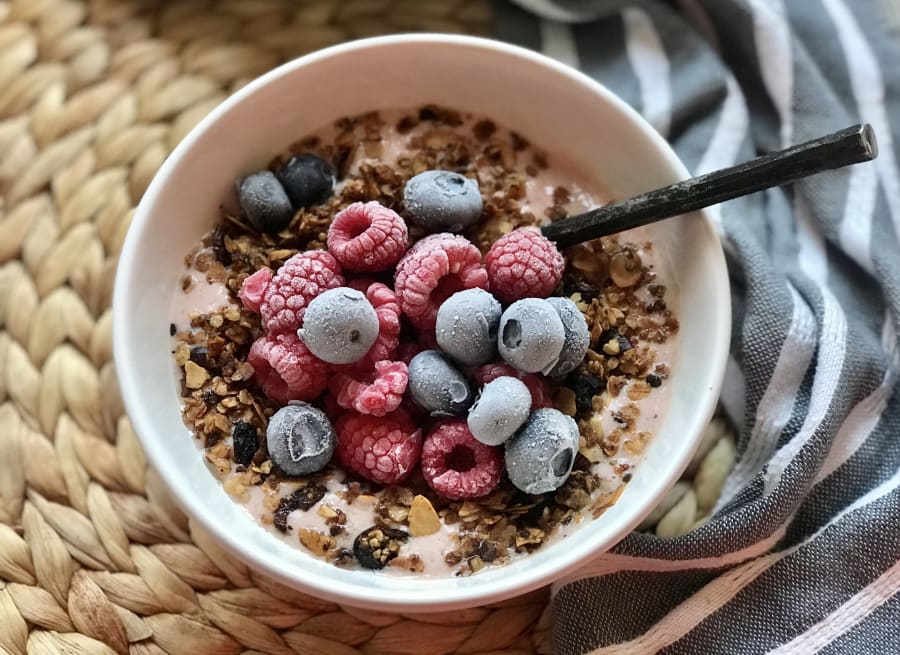 Blueberry and Raspberry Vegan Bowl with Granola
"If you love eating healthy and balanced breakfasts that consists of fruits and cereals, this bowl has both, and is really easy to make. You'll see just how fast you can make it, and just how much you'll enjoy it."
ingredients
6
Difficulty
Easy
Time
10'
Fresh ingredients

raspberry

blueberry

banana
Pantry ingredients

plant-based milk

granola

peanut butter
Instructions
1
Add the peeled banana, half of the amount of raspberries, the milk, and the peanut butter into your blender. Blend very well. Since the raspberries have a lot of seeds, put the blend through a fine colander (this is optional, but recommended).
2
Divide the blend into two bowls or containers. Add a couple handfuls of granola on top, along with the blueberries, and the rest of the raspberries. It's that easy, now enjoy!
Tips & Tricks
We use frozen fruit to give consistency to the base of the bowl.