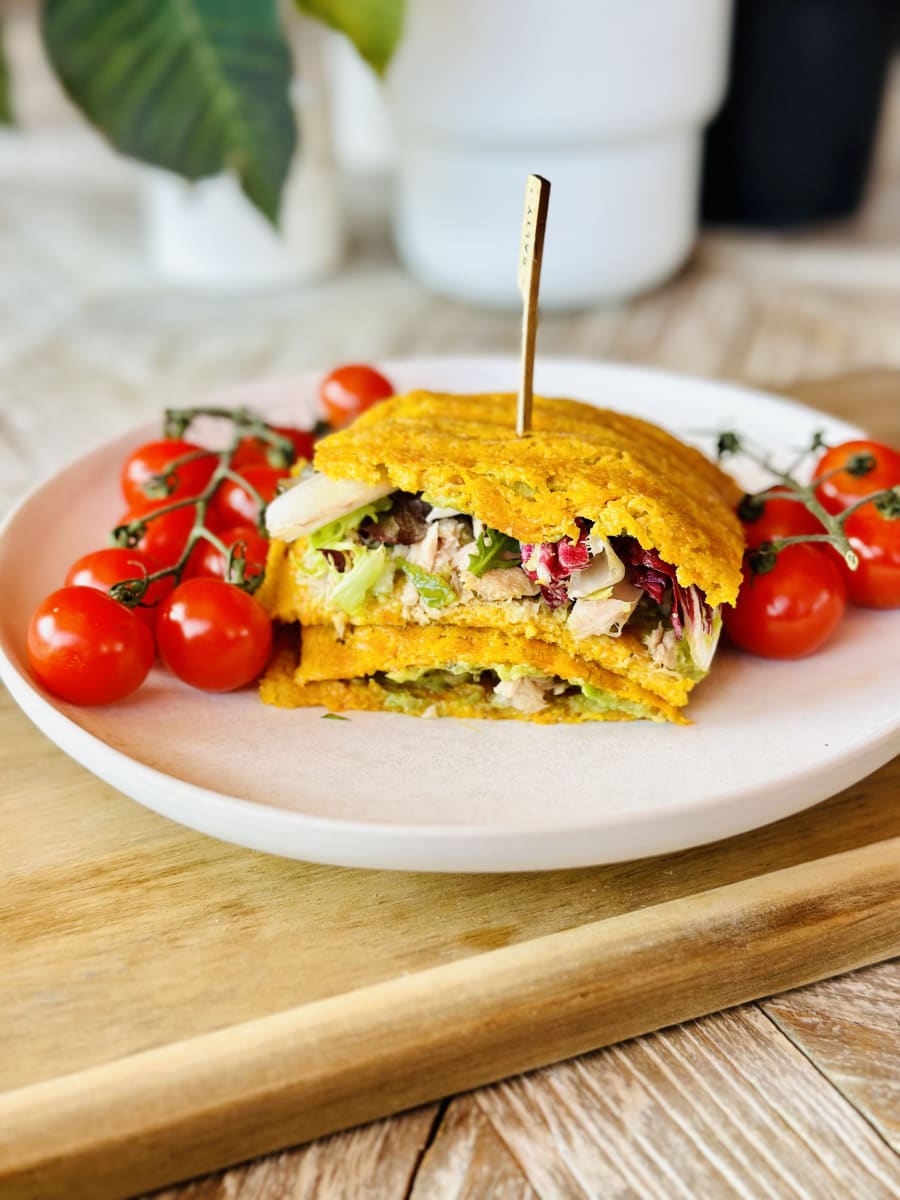 Carrot Sandwich filled with Tuna
"Are you open to trying this "tuna crepe sandwich?" It's a special type of sandwich with a crepe texture that's made of shredded carrot cooked in a toaster. Fill it with veggies and tuna or with whatever you want. You'll have an original, nutritious, and delicious meal."
ingredients
9
Difficulty
Easy
Time
25'
Fresh ingredients

carrot

cream cheese

avocado

lettuce
Pantry ingredients

oat flour

olive oil

garlic powder

salt

canned tuna
Instructions
1
Peel and shred the carrots.
2
Add the shredded carrot to a bowl followed by the oat flour, olive oil, cream cheese, salt, and garlic powder. Use a spatula to energetically mix for 1 minute.
3
Place a piece of lightly greased parchment paper and place half of the dough you've just prepared on top.
4
Grease your hands and spread the mixture to give it a square form. Place another piece of parchment paper on top.
5
Place the carrot dough in the parchment paper into your grill or sandwich maker and cook for 10-12 minutes (at about 300°F.
6
Carefully remove the paper with the dough from the sandwich maker and place on a cutting board. Remove the parchment paper. If you deem it necessary, remove the edges with a sharp knife so that it turns out as square as possible. Cut in half to make two slices of your carrot bread.
7
Divide a bit of the avocado flesh with a pinch of salt onto each slice of bread. Add some tuna and the lettuce on top. Close the sandwich with the other slice that also has the tuna.
Tips & Tricks
So you can get an idea, the two carrots had a combined weight of 7.75 ounces.
Since every grill/sandwich maker is different, pay extra attention to the way it's cooking after the 8-9 minute mark.