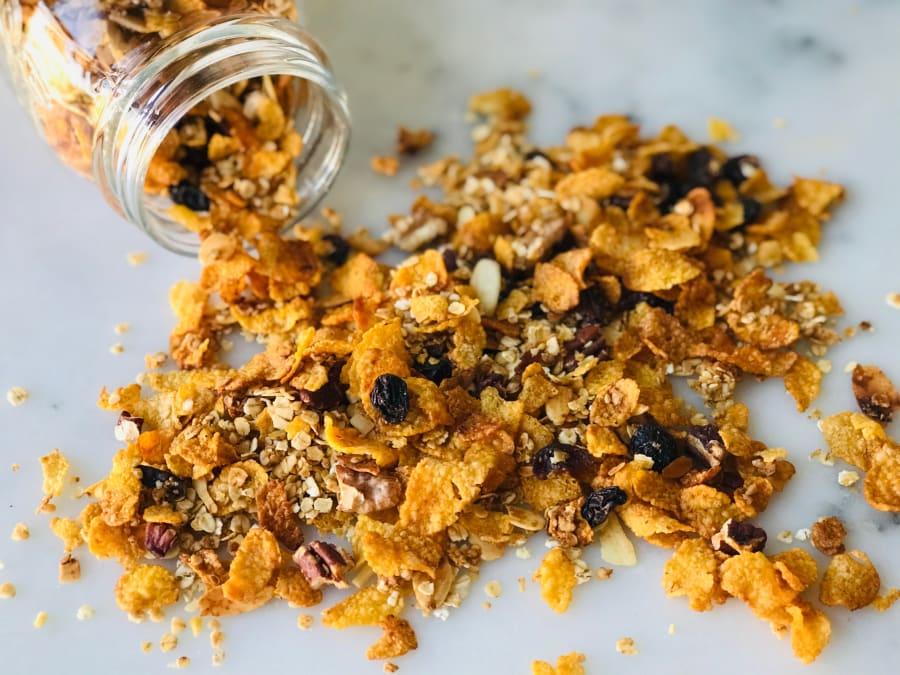 Cereals, Oat, and Nut Granola
"There's nothing better than having homemade granola ready at hand. It'll help you make amazing breakfasts when you combine it with yogurt, cheese, milk, etc. It also makes a great snack when you get hungry throughout the day. But the best part is that you made it yourself with delicious ingredients."
ingredients
8
Difficulty
Easy
Time
25'
Fresh ingredients
Pantry ingredients

almond

honey

coconut oil

oats

cereal

walnut

raisin

dry cranberry
Instructions
1
Preheat the oven to 350°F.
2
In a bowl, mix the oats, cereals, walnuts, almonds, raisins, and dehydrated blueberries.
3
Add the melted coconut oil and honey to the bowl and mix.
4
Place a parchment paper on a baking sheet and spread the granola mixture on it and smooth it out and make sure it's even in thickness.
5
Bake for 17 minutes. While it's baking, remove the baking sheet and mix the ingredients, smooth it out, and place it back in the oven. Do this at least two times to make sure it all bakes well.
6
After the indicated time, remove from the oven and let it cool. Now it's ready to eat!
Tips & Tricks
In this recipe we used sugarless rolled oats and cereals.
You can switch out the nuts suggested in the recipe for the ones you have at hand. We used sliced almonds. Realistically, any nut will be perfect for this granola recipe.
Each oven is its own world. The time we used to bake the granola in the oven was perfect for us, but keep an eye on the granola just in case.