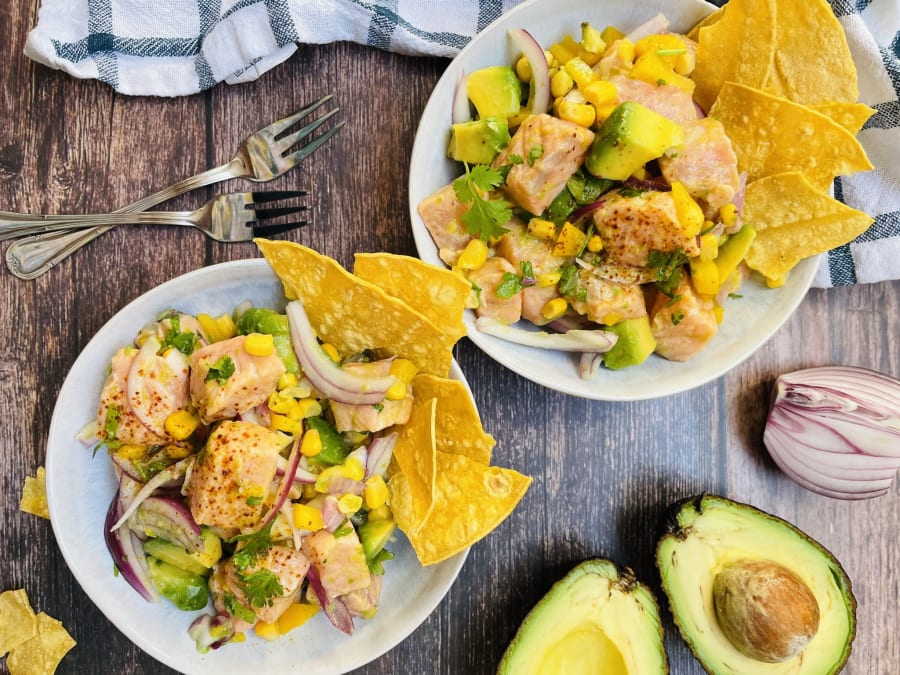 Avocado and Salmon Ceviche
"I've brought you a very refreshing version of an avocado and salmon ceviche. Imagine the refreshingly delicious, and contrasting flavors each bite will have!"
ingredients
8
Difficulty
Easy
Time
30'
Fresh ingredients

salmon

lime

red onion

yellow bell pepper

avocado

cilantro
Pantry ingredients

corn

salt
Instructions
1
Dice the salmon into approximately 2 cm thick cubes.
2
Zest the lime on top of the salmon and then squeeze the lime on.
3
Julienne (thin slices) the onion and finely dice the bell pepper and avocado. Add the salmon and canned corn into a bowl.
4
Mix everything well and place in the fridge.
5
After 15-30 minutes, serve it fresh with some plantain chips or tortilla chips.
Tips & Tricks
In order to prevent illness, it is recommended that you freeze the salmon for at least 72 hours before and then let it slowly defrost in the fridge.
The lemon juice "cooks'' the fish, so if you leave the fish marinating for too long then it won't be as tender. Because of this we recommend marinating for a maximum of 30 minutes.
If you don't like the strong flavor of onion, you can let it stand in water for 15 minutes after slicing it.