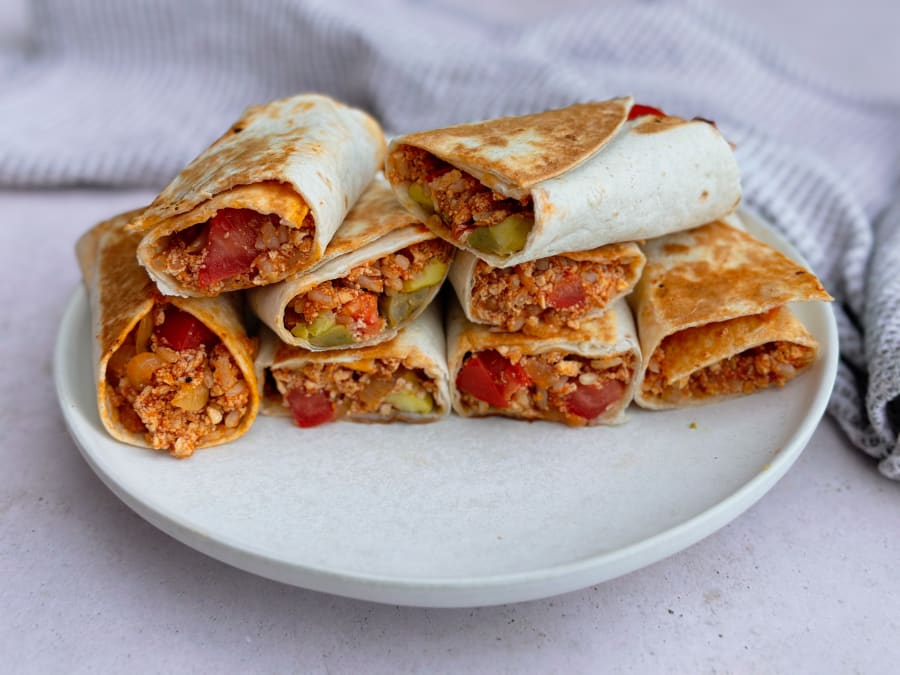 Tofu Burritos
"Are you in the mood for a fun, healthy, and veggie dish? You've got to catch up and start making tofu burritos. They're extra juicy and filled with flavor."
ingredients
11
Difficulty
Easy
Time
20'
Fresh ingredients

tofu

onion

garlic

tomato

avocado
Pantry ingredients

rice

flour tortilla

tomato sauce

cumin powder

soy sauce

olive oil
Instructions
1
Remove the tofu from it's container. Drain and place on a towel or paper towels. Try to remove as much excess water as possible by pressing down. Use a grater to grate the tofu. Add cumin and soy sauce, and as an option, some spice. Mix and cook in a pan with hot oil for 5-6 minutes. Set aside.
2
Slice the onion and grate the garlic. Cook these vegetables in a pan with some hot oil on medium heat until the onion is tender.
3
Add the tofu to the pan. Add the tomato sauce and mix.
4
Turn off the heat. Add several tablespoons of cooked rice and natural diced tomato. Mix the ingredients.
5
Place several slices of avocado on each tortilla and add the tofu filling you've prepared. If you'd like, you can place each burrito onto a pan so that it becomes a bit crispy.
Tips & Tricks
You can accompany the burritos with your favorite sauce. We used a spicy sauce and we loved it.
We used cooked rice in the recipe. If you don't have any you can prepare some following the instructions for the perfect rice within the app.