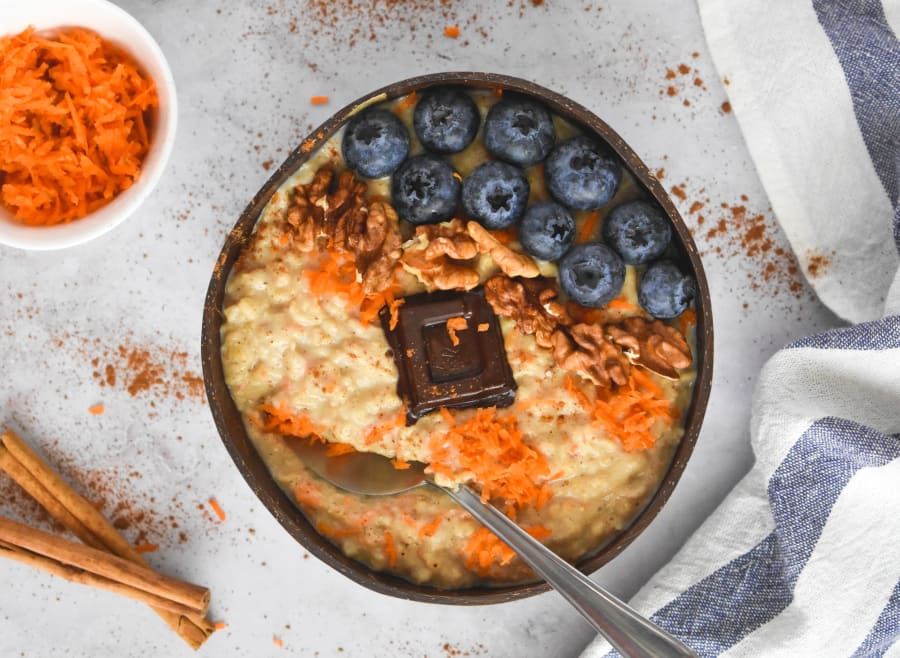 Carrot Porridge
"If you want to enjoy a hot, satiating, and easy to prep breakfast, don't miss out on this carrot porridge that is full of nutrients and flavor!"
ingredients
7
Difficulty
Easy
Time
10'
Fresh ingredients

carrot
Pantry ingredients

peanut butter

plant-based milk

honey

cinnamon

oats

water
Instructions
1
Grate the carrot and set aside.
2
Heat up some water in a pot and when it begins to boil, add the oats.
3
Add the almond butter and stir so that it melts.
4
Add the plant-based milk, honey, cinnamon, and grated carrot and cook for several minutes, until the oats have a creamier consistency.
5
Remove from the heat and serve in a bowl. You can add your favorite toppings such as blueberries, raisins to sweeten it, some seeds, more grated carrot, or even an ounce of chocolate (it should melt with the heat).
Tips & Tricks
To add to the flavor and to make it taste like a carrot tart you can add a pinch of nutmeg and ginger.
You can substitute the honey for your favorite sweetener or you don't have to add anything and just sweeten it with raisins.